Website: www.VedaVihaan.com
Present Turnover & Starting Capital Invested for Business: Turnover – 1 Cr, Starting Capital – 40 Lakhs
Current Age and Age at Business Start: Current Age – 37 years
Background and the Drive to Entrepreneurship
S Naveen Kumar, a dynamic entrepreneur and visionary leader in the field of education, currently serves as the General Secretary and Principal of VedaVihaan, The Global School, operated by the Navdip Educational Trust. Naveen's innovative ideas and leadership skills have catapulted VedaVihaan into a premier educational institution in India, offering world-class education. His passion for education, dedication to student welfare, and unique approach to holistic education have earned him immense respect in the sector.
Defining the Business
Inception Year/Date: 07-Oct-2019
Present Status: VedaVihaan now has 3 branches in Bangalore (Whitefield, Kadugodi, Belathur).
Impact on Society
VedaVihaan The Global School's impact on society is significant. Their unique curriculum, blending traditional Indian knowledge with modern technology and global perspectives, prepares students for 21st-century challenges.
The Business's Role
VedaVihaan is a preschool that educates future leaders from their foundational years.
Problem Solving
VedaVihaan provides holistic education that extends beyond academic excellence to foster students' skills, interests, and character.
USP of the Business
Their unique curriculum, covering fine motor skills, gross motor skills, hands & eye coordination, vocabulary building, creative thinking, phonetics, language development, social-emotional development, individual attention, personal awareness, and ideal student-faculty ratios, sets them apart.
Future Prospects
The future prospects of VedaVihaan include expanding to offer world-class education across various levels, from playgroup to 12th standard, under the CBSE/CISCE board.
The Drive to Entrepreneurship
Naveen's drive to create his own brand and passion for education motivated him to start his entrepreneurial journey.
Inspirations and Idols
His parents have been his main inspiration and idols. They instilled in him creativity, out-of-the-box thinking, strong communication and negotiation skills, good interpersonal skills, and problem-solving abilities.
Entrepreneurial Challenges and Learnings
Naveen faced initial difficulties arranging funds and endured challenges due to the COVID-19 pandemic. His determination and optimism helped him weather these challenges. During the pandemic, he invested time in understanding the market, various school models, and marketing strategies, which paid off later.
Essentials to Start the Business
Essentials included a suitable location with a pleasing ambiance, eco-friendly infrastructure, furniture, toys, and well-trained faculty and staff.
Identifying the Market Opportunity
Naveen identified the demand for education in his locality, as education was highly valued and numerous schools existed in the area. His background as a teacher further motivated him to enter the education sector.
Unique Entrepreneurial Qualities
Naveen possesses creativity, out-of-the-box thinking, strong communication and negotiation skills, good interpersonal skills, and problem-solving abilities. He is a versatile and experienced professional with a deep understanding of various sectors.
Professional Journey and Achievements
Before entering education, Naveen had a successful career in techno-talent acquisition. He has over 15 years of experience in staff augmentation, delivery management, talent acquisition, people management, client management, and more. He holds an MBA in HR & IT and various certifications. His diverse skill set and experience in different sectors have contributed to his success.
Advice to Budding Entrepreneurs
Naveen advises aspiring entrepreneurs to plan well, give their best effort, and persist in their journey. Success varies for each individual, so it's essential to work hard and stay determined.
Awards and Recognitions
Naveen and VedaVihaan have received numerous awards and recognitions, including:
Excellence & Leadership in Education – Education Icon Award 2023.
BlindWink – Indian Icon Award 2023 for the Most Inspirational School of the Year.
Education Excellence Awards' Best Preschool of the Year Award 2023.
Glaze Iconic Awards 2023 – Naveen named in the "40 Under 40 Promising & Emerging Entrepreneurs."
Honorary Doctorate Award 2023.
Global Excellence Award 2023.
Top 10 School of the Year 2023.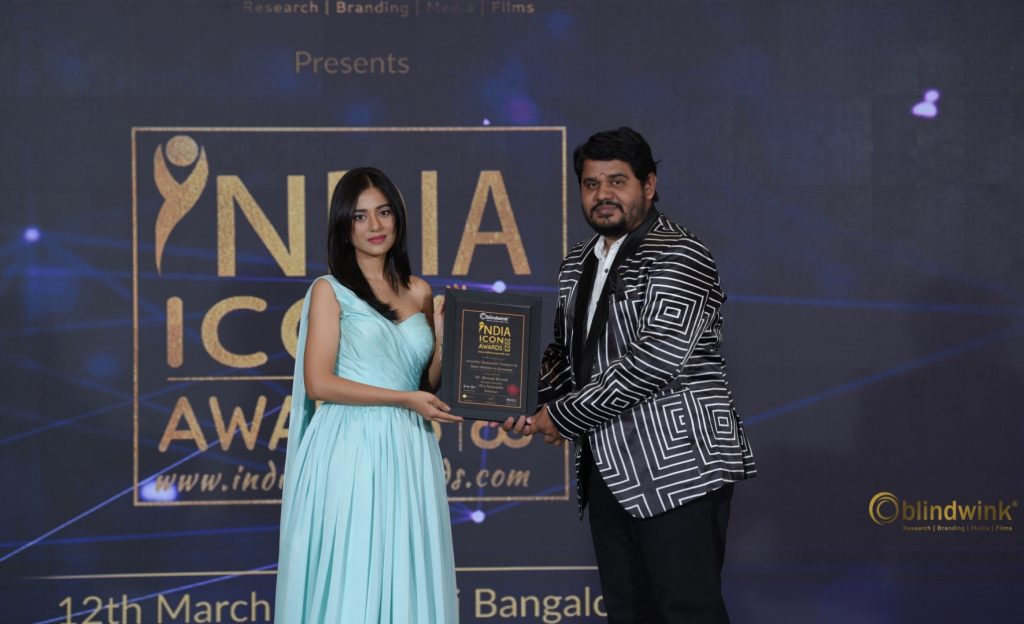 The journey of K V Shivaramiah and S Naveen Kumar is a testament to their commitment to providing quality education and their unwavering dedication to their entrepreneurial vision. VedaVihaan The Global School is set to continue making a significant impact on the education sector in India, nurturing the leaders of tomorrow with a unique and holistic approach to learning.