In the realm of artistry, where creativity knows no bounds, emerges a dynamic duo from Kolkata, steering their interior and exterior designing firm towards remarkable achievements. Join us as we delve into the narrative behind this inspiring venture.
Meet Rajdip Sinha and Raja Sinha, the co-founders of Decorlab, a Kolkata-based interior and exterior designing firm. Established in 1993, Decorlab has spent decades mastering the art of elegantly transforming residential and commercial spaces. With an impressive portfolio of approximately 500 projects and a diverse clientele spanning across India, their exquisite work is etched in the memories of all who experience it. As a revered interior designing company, Decorlab has an innate talent for enhancing beauty and producing captivating designs.
Their work, characterized by its creativity and glamour, is grounded in the essential needs of the client. With a formidable team of 275 skilled professionals, Decorlab is committed to breathing life into home and office interiors through top-notch services and furnishings. Rajdip Sinha, one of the co-founders, emphasizes their approach: "We meticulously analyze the budget and then offer design ideas and unique solutions to shape your dream spaces. Decor Lab has undertaken a myriad of projects, catering to a diverse clientele including corporate entities, builders, individuals, and public enterprises. It's needless to say that we are a specialized team of the finest interior designers who can transform your space into a work of art."
At its core, the company believes in a philosophy that centers around holistic, context-driven spatial relationships between people and spaces. This approach fosters social cohesion and nurtures responsive architecture.
The Design Director and co-founder of Decorlab, Rajdip, is a passionate professional with a profound love for the creative process. While he wasn't a stellar academic during his student days, his knack for creativity shone brightly. He yearned to carve a career in the creative field, driven by the belief that the art he creates would outlive him. The firm, initially established by his father, Raja Sinha, focused solely on interior design. Later, Rajdip expanded the company to include an architecture department and introduced the relatively lesser-known concept of parametric design to West Bengal and India.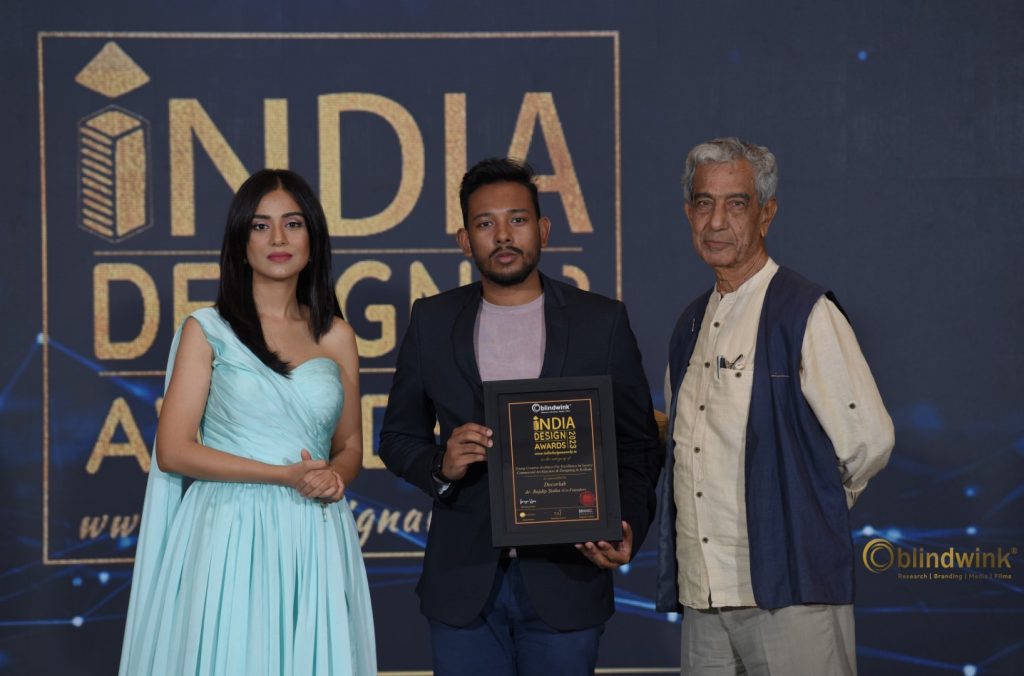 Rajdip proudly reveals that Decorlab currently manages and designs more than 30-40 sites across India, with ambitious plans for international expansion on the horizon. He reflects on how architecture has evolved from a basic necessity, providing shelter from natural disasters, to becoming a symbol of luxury and aesthetics. In their projects, they uphold the principles of green architecture, ensuring environmentally-friendly structures.
Decorlab offers high-end, comprehensive design services for residential, commercial, and hospitality projects. Their offerings encompass everything from flooring to space planning, custom furniture and fixtures, and from conceptualization to installation. They approach each project with design thinking, utilizing their in-house expertise and experience. They continuously explore different materials and adapt to emerging technologies and trends to provide innovative designs. The firm also has grand plans to expand and enhance its design studio, launching new verticals such as the BIM department studio, an art and artist department, a metaverse-focused vertical for designers, and a third for intern project activities.
Architect Zaha Hadid serves as Rajdip's inspirational figure. Hadid, a modern-day superwoman, made pioneering strides in the realm of parametric and computational design tools and methods, which align with Rajdip's area of interest. Her ability to excel against all odds, as a woman from a developing country, continues to inspire him.
In his entrepreneurial journey, Rajdip faced several challenges. Clients were initially skeptical about entrusting their projects to him due to his relatively young age. Coordinating with contractors and clients often proved challenging, especially when pushing the boundaries of design or innovation. The procurement of high-quality materials and skilled labor posed difficulties, resolved through workshops that bridged communication gaps and collaborations with trusted vendors.
A jewellery showroom project in Patna, designed during the early stages of Rajdip's career, holds a special place in his heart. Rajdip acknowledges that psychology plays a significant role in interior design, with elements like lighting, colors, configuration, scale, proportions, acoustics, and materials capable of evoking a range of emotions and behaviors. Therefore, understanding clients' tastes and preferences and guiding them through the design process is pivotal to crafting exceptional spaces.
Decorlab's dedication and excellence have earned them recognition, including the 'Best Design in Budding Entrepreneurs' award in the prestigious Hafele competition. They also received the 'National Award for Business Excellence and International Business Seminar 2023' at the global India Business Forum.
The journey of Decorlab exemplifies the transformative power of passion, perseverance, and innovation. Through "Artistiktouchsonam," they not only enhance aesthetics but infuse spaces with emotions and creativity, leaving a lasting impact on all who encounter their work. Rajdip's advice to aspiring entrepreneurs serves as a guiding light, encouraging them to pursue their true calling.