Jalpa Narendrakumar Joshi
Jalpa Narendrakumar Joshi, excels in Kuchipudi as well as animation film making and interestingly she has ventured into both of her passion to serve her clients. Since 2005, she has been professionally mentoring her pupils to perfect the Kuchipudi moves, one of the major Indian classical dance form. Kuchipudi is a dance-drama performance with ancient roots of Hindu tradition. It is an expert art of storytelling through expressions and rhythmic hand gestures, which Jalpa have mastered since her childhood.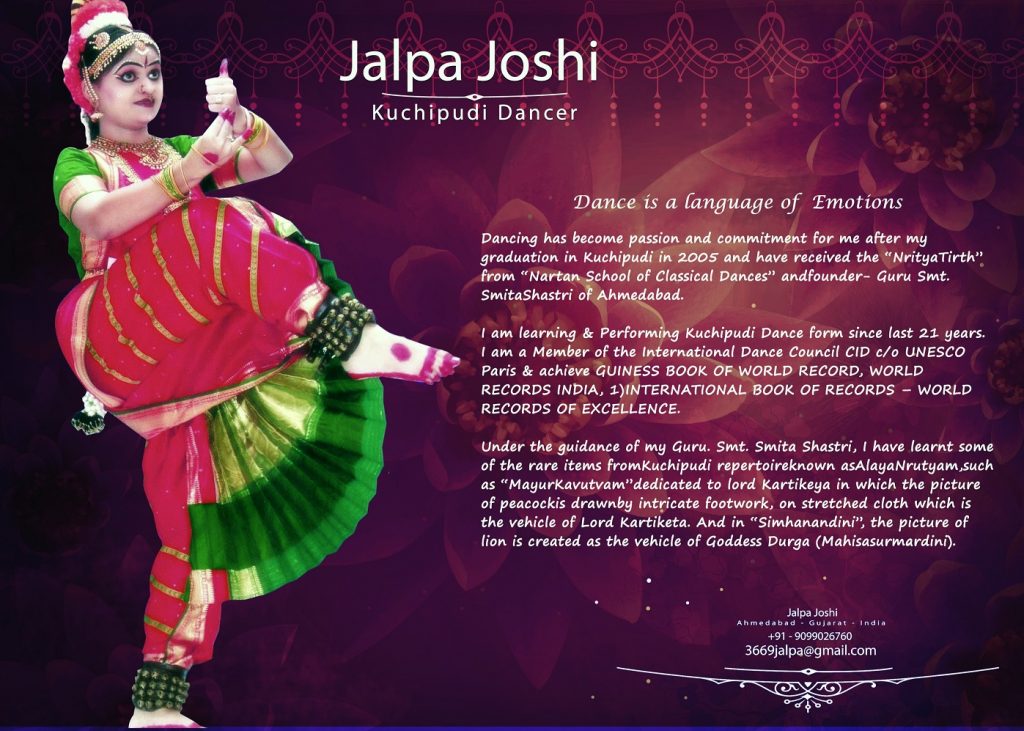 She is qualified in animation. As a BCA, MSc in Animation, she took it up as her profession and opened up her own venture and working as Chief Asst. Director & Animator in Gujarati and Hindi films and documentaries. At an age of 30 years, starting something of her own is phenomenal and she has been playing the dual role of an Animator and Choreographer quite efficiently and successfully. Through choreography she wants to inspire youths and encourage them to dive into the enormous opportunity of entrepreneurship.
Jalpa believes that through her animation and film making work, she is spreading out useful message for the well being of the society, whereas through her dancing mentorship role, she is helping others to cope up with the well-being of both physical and mental health. She is loaded with her client's work in animation line. She is mainly into 2D/3D animation, 3D modeling (interior / architectural designs), walkthrough, film making, film editing, graphic designing and others, through which she provides creative solutions to her clients.
Being a professional animator, she provides best of services to her clients. Through her dance mentorship she aims to encourage girls from rural India to take it up for their own upliftment and improvement. With this noble intention, she has been taking workshops for these girls to make them self sufficient and make a career out of dance. Similarly, through her films she conveys social messages for the upliftment of the under privileged. Needlessly to say, through this dual venture, Jalpa has been doing a phenomenal service to the society.
On asking what prompted her to take an entrepreneurial plunge, she candidly admits,
"Unavoidable situation in uncomfort zone gave birth of business profession in my life."
And this is true to some extent for most of the new age entrepreneurs, who are forced to get out from their comfort zone and start something of their own to keep their professional side up and running. It's her mother who has been a strong inspiration to her entrepreneurial journey so far. Through her knowledge and experience she has learned a lot and offcourse her support to Jalpa's venture has been a strength.
Like every businessman, Jalpa too faced some hardships, but luckily came out of the slump with her mother's help. In the middle of her journey, she lacked funds and only her mother's banking guidance helped her to revive fundings. Today there's no looking back and things are running smoothly. According to her, mind, money, mentor, morality, resources, mutual understanding are the reciepes of building a solid business. Hence, focusing on these aspects can take care of the rest.
Being recipient of several awards and accolades, itself speaks volume for Jalpa's excellence in her field of business. She is International record holder, and have her name in Guiness Book of world records, went on to win second prize in 3D animated short film category in Chandigarh Film Festival. She also won 3rd prize in International Shortfilm Festival – "#acutbeyound" organise by Filmwallas & HCL. According to her, success is bound to follow if you put your heart and soul into it, and with that we wish all the success to her.
Awards and Recognition
If you're inspired with this story, do share it with your friends and family & be their fountain of positivity! Don't forget to share your views and experiences with us in the comment section; we care for all of you!