Meet Vijayalaxmi Mathapati & Somanagowda P, the blockbuster duo, Vaastava Interiors owners, and most definitely, successful entrepreneurs.
Inaugurated in April 2018, Vaastava Interiors is a Bangalore design company that brings dreams home into reality with "Innovations meet Reality."
Here, you'll find a team of passionate designers with a penchant for excellence, obsessive about delivering quality work, and their passion for great designs make them the most versatile budget Architects & interior designers in Bangalore.
Goals & Motives
The services at Vaastava affect society on a high level and a more personal level, having a profound impact on their clients. Everything from the space layout to the material finishes contributes towards occupant health, mood, and productivity; they create art through business. Right from concept to execution, they believe in making the process flawless, hassle-free, and enjoyable for our clients.
Vaastava Interiors is a multidisciplinary architecture, interior design, and landscape design firm. The firm has become synonymous with exquisite taste, unparalleled service, and unmatched quality catering residential, commercial, institutional, and hospital projects.
"Projects with challenges and requirements were finding creative best solutions is a prerequisite."
The slogan – "Innovations meet Reality" is designed to match people's appetites, create customer value, and market opportunity for the project. To give any project a personality and an identity is the ultimate goal of Vaastava!
The owners and their ideology to be the most successful and have a strong brand identity by providing each of our clients quality and unique solutions, thus improving lifestyle as much as possible, make them stand out in their career.
The owners told us that, to start their firm where they could dream up concepts, figure out a way to convey and implement them, and also manage subcontractors, own office staff, clients, and budgets with a diverse mix of skills, strengths, and interests and most satisfying way to transform one's dream into reality, has been a roller coaster yet the most satisfying journey to them. And we can feel the rush only by reading that, can't we!
"My Dad is my inspiration. He always encouraged me to work hard, set a goal and chase my dreams and work efficiently to head towards my dream."
The learning process for this pair has been interesting, as, along the way, they realized there's a difference between being a designer and being an operator of a business. One can be talented at what they do, but having a great understanding of the process of business—and this is not the marvelous part of the design—but to manage clients, projects, and vendors.
Thinking about pricing in advance and handling things, giving some thought in advance to the business's function helps one be more efficient, which then helps to free up the energy, time, and creative juices to do still what this duo does. Thus, if not careful, these administrative things can hinder the progress of the project.
For them, by mere marketing with circulating their profile, cards, and work progress, they found an opportunity for their business. The duo is happy that most of the work comes from recommendations and repeat business.
Now, there's another thing that makes them unique as entrepreneurs are their ability to govern a small team of highly skilled experts who have the freedom to think significant and many exciting initiatives to work on with a flexible schedule and work-from-home policy. The environment allows them to grow; all team members attend meetings, and everyone's opinion matters. Within departments, there is a lot of collaboration and idea-sharing, roles are clearly defined.
Entrepreneurship, if nothing but enhanced their creativity and boosted innovation. Building a team and chasing to an end goal. They learned to listen to others and value their point of view and ideas. Got to think about the problems society is facing today.
Lastly, according to their understanding –
"The design industry in particular, so I would suggest you start your own business with strong knowledge and experience."
Projects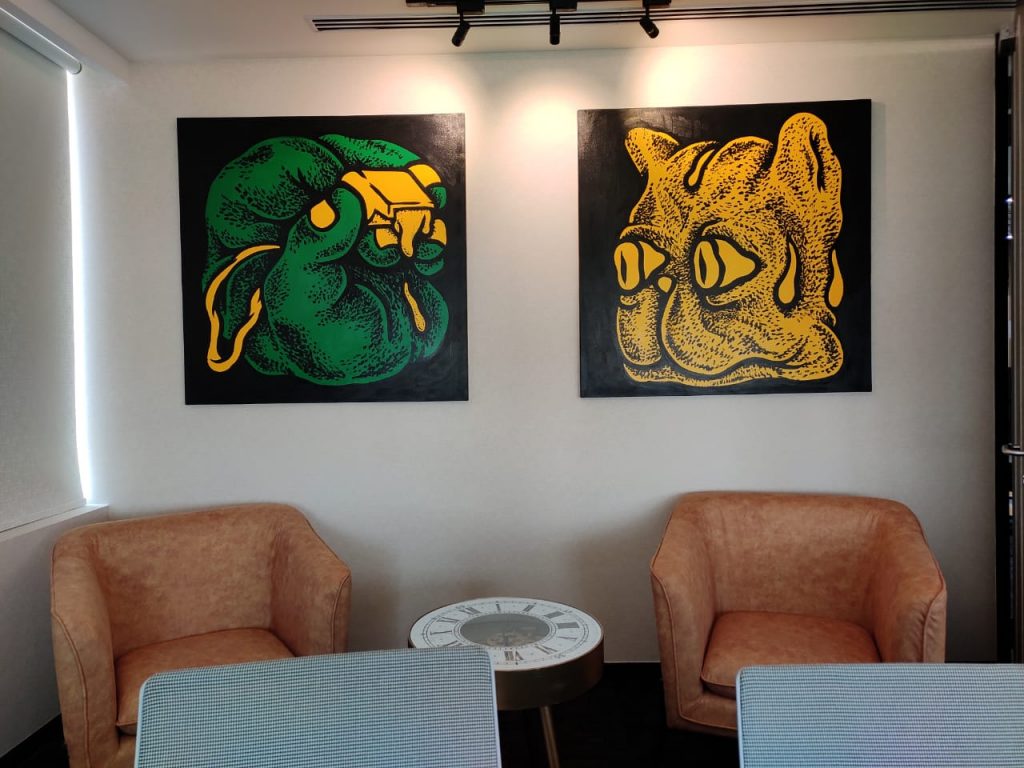 If you're inspired with this story, do share it with your friends and family & be their fountain of positivity! Don't forget to share your views and experiences with us in the comment section; we care for all of you!