Tharadevi is from Kerala's capital city Trivandrum. She is a commerce graduate and got married at the age of Twenty-one. Considering that moment as her turning point, she commenced her journey. Back then, when both of her kids joined the school, she was determined to make her life more constructive and joined the course of makeup artistry and gradually stepped into the world of Nails.
She then finished her course in Nails, Microblading, and eyelash extension from one of India's finest institutes. She believes to be the blessed one with the most supportive husband, mother in law and few other well-wishers who have always encouraged her to start this venture.
Also, she wholeheartedly thanks Brand Opus India for choosing her for the honourable award.
In choosing her career, she takes great inspiration from the gorgeous South Indian actress Nayanthara; her elegance and how she pampers her nails made her love her more and more!
D Artistry: The Dream Project
The inception of her Studio, D Artistry, was on June 11, 2020.  D Artistry has been holding its position among the populace. People have ratified it, and it is quite evident from the plethora of customers even during this period,
"We provide different time slot adhering to the covid-19 protocol to attend them" -She says.
According to her, the studio's impact is remarkable. It took some time for the community to realise the significance of taking care of their nails. Like any other organ, fingernails need proper care, and the steady growth in the line of customers to this studio bears testimony to their successful effort to please customers.
Marriages and other special occasions too served the prospect of such a studio. Her business makes people look better with their hands, toes, nails, eyebrows, and eyelashes, especially women; after their daily household works, dirt gets accumulated in nails, damaging them. It's where D Artistry extends its service.
The studio takes care of all problems related to discolouration of nails, redness around the nails, painting the nails, decorating, and embellishing them. She says that the USP of her businesses is her Customers themselves. They are the sustenance of the very firm. It is them who took the name of D Artistry to the outside and publicised it.
D Artistry: First One Of Its Kind
The first one of its kind in Trivandrum, besides attaining gradual fame, needs to be extended, she told us. Accordingly, she plans to expand her studio beside a Nail Art School. She is also looking for a sincere, dedicated, and passionate staff who could handle any type of nails with utmost care.
D Artistry is the brainchild of inspiration. Her family served the pique, and it was then kindled by an Icon in the South Indian film industry, Nayantara. Tharadevi says that she effectively utilised her pastime to read related artic andes surfed the net when it struck her to start such a studio.
In her endeavours, she faced her part of the struggle, "struggle is the right word; I would say nothing can be achieved if we are in a comfort zone", she says. As an entrepreneur, her first attempt was to satisfy her customers with a wide range of products, and she has satisfactorily overcome it.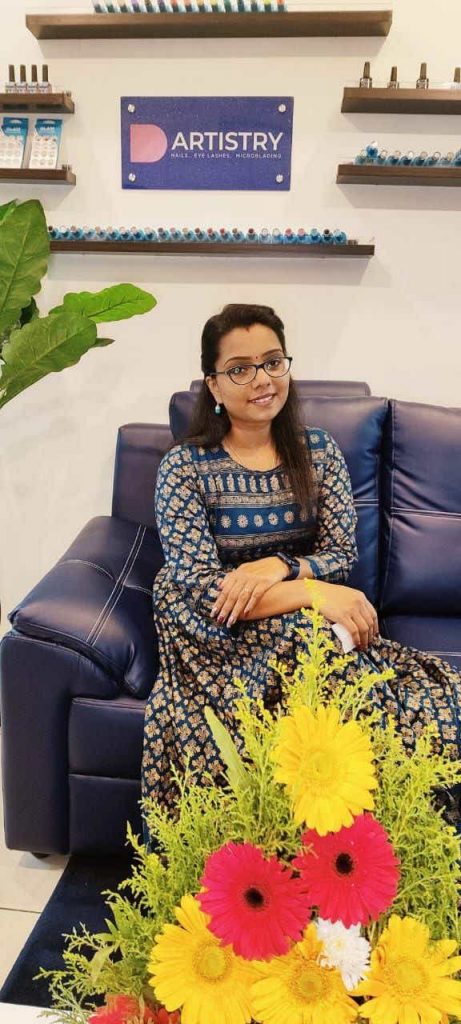 "I waited, did some research, and knocked at the door of opportunity; it got opened."
Tharadevi loves doing arts, crafts, glass painting, and pot painting. For your information, Kerala kathakali's traditional art forms are drawn on nails besides other cartoon characters favourite to kids. Indians have always accepted Vogue and wanted to use the latest trends, and hence, she hopes to find her market in that area.
Tharadevi knows that women to get into such a profession is challenging, and challenging whatever impedes her journey to her aspiration, prompts her to go ahead and find her uniqueness.
From 11 June 2020 to this day onwards, she only thrived to achieve things that meant she had learned a lot. It's her vision, risk tolerance, creativity, decisiveness, self-discipline, discipline, and integrity that keep her going.
Awards are a mark of recognition in honour of our achievement. Thus, it's an acknowledgement of talents. She has received Most Prominent India Icon Award 2021, presented by the Indian Cricket Legend Mr Kapil dev and former Miss Universe (1994) MS. Sushmita Sen for the Best Nail Art Studio in Trivandrum. This award made her more responsible, yet she has miles to go.  
If you're inspired with this story, do share it with your friends and family & be their fountain of positivity! Don't forget to share your views and experiences with us in the comment section; we care for all of you!