Ms. Rupal Daswani, Owner and Lead Designer, Mika Decors & Interiors
When it comes to turning a house into a home, the importance of interior design cannot be overstated. The right blend of aesthetics and functionality can breathe life into a space, making it a sanctuary that reflects the personality and preferences of its inhabitants. Mika Decors & Interiors, founded by the talented and ambitious Ms. Rupal Daswani, has been making waves in the industry with their exceptional design expertise and commitment to providing luxury within budget. Let's delve into the story behind this successful venture and explore what sets them apart in the world of interior design.
Ms. Rupal Daswani, the owner and lead designer of Mika Decors & Interiors, is an individual driven by ambition and a relentless pursuit of excellence. From a young age, she was captivated by artistic endeavors such as sketching, painting, and coloring. As she grew older, her passion for organizing homes and furnishing spaces in creative ways became apparent. This love for interior design ultimately led her to pursue a profession in this field and fueled her desire to establish her own company.
Mika Decors & Interiors was established on the 19th of October, 2018, with a clear vision in mind. Presently, the company has two branches located in Raipur and Rajnandgaon in Chhattisgarh, where they offer a wide range of interior services along with home decor and furnishings. Their impact on society is centered around their mission to help people experience luxury within their budgetary constraints. They firmly believe that everyone deserves a dream home that is tailored to their vision, and they strive to make that vision a reality.
Specializing in residential and commercial designs, Mika Decors & Interiors solves the problem of turning dreams into tangible spaces. With their exceptional design acumen and a keen eye for detail, they transform ordinary spaces into extraordinary ones. Their unique selling proposition lies in being Chhattisgarh's first fusion store that combines interior services with home decor and furnishings. By providing a one-stop solution, they simplify the process for their clients and offer a seamless experience.
Looking towards the future, Ms. Rupal Daswani envisions creating awareness about the importance of hiring an interior designer when visualizing one's dream home. She aims to expand her business across the country, allowing her creativity to flourish and inspire people from all walks of life.
The journey of an entrepreneur is often fraught with struggles and challenges, and Ms. Rupal Daswani's path was no exception. Starting a business at the age of 21 without any prior experience in the industry posed its own set of obstacles. People doubted her skills and questioned her abilities. However, she turned these challenges into opportunities for growth and self-improvement. She realized that an interior design background was not the sole determinant of success. Rather, it was her skills, talent, and creativity that spoke volumes about her capabilities. Ms. Daswani also overcame the setbacks caused by the recent lockdown, which brought business to a standstill. This period of reflection made people realize the importance of a well-planned and feasible home, reaffirming the necessity of interior design.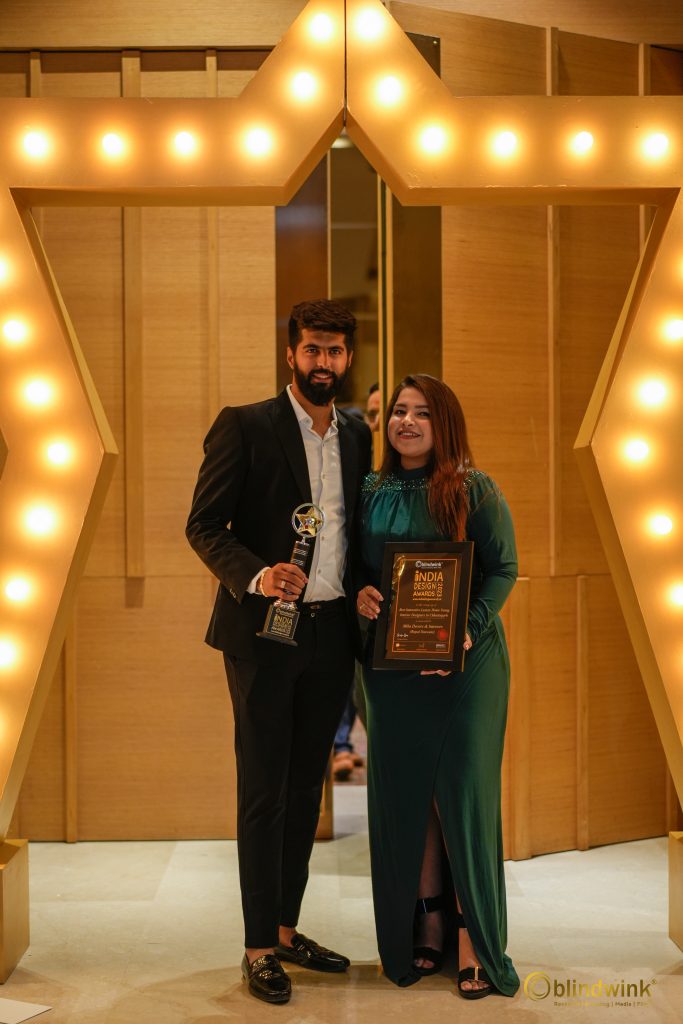 To start her business, Ms. Rupal Daswani required a solid investment plan, an office setup for client consultations, and, most importantly, her vision and skills. The unwavering support of her family played a pivotal role in uplifting her endeavors.
Identifying opportunities in the market often involves serendipitous encounters and word-of-mouth referrals. For Mika Decors & Interiors, their first breakthrough came when a client visited their store for decor products and discovered their interior services. The successful completion of a commercial project led to a buzz in the market as visitors to the store were captivated by the stunning interiors. Through this word-of-mouth recommendation, Mika Decors & Interiors began to gain recognition and attract more clients.
What sets Ms. Rupal Daswani apart as an entrepreneur is her unwavering commitment to humility and kindness. Inspired by her idol, Sarah Sham, the principal designer of Essjees Atelier in Mumbai, Ms. Daswani believes in treating clients and vendors with respect and empathy. She understands that every person and situation in life brings valuable lessons, and she embraces the opportunity to learn and grow. The reputation and fame that Mika Decors & Interiors has achieved in the market are a result of their exceptional work showcased in exhibitions, their strong online presence through social media, and the positive word-of-mouth spread by satisfied clients. Interestingly, they have never relied on paid marketing strategies or traditional advertising methods, demonstrating the power of organic growth and genuine connections.
One project that holds a special place in Ms. Rupal Daswani's heart is the recently completed residential project in the City of Dreams, Kachna, Raipur. Covering an area of 1200 square feet, this project allowed her to put her determination and hard work into transforming the client's vision into reality. Ms. Daswani believes in establishing an emotional connection with her clients and aligning their dreams and aspirations with her design concepts. Each project holds its own significance and carries the weight of her commitment to creating personalized, dream spaces for her clients.
With the current trend shifting towards sustainable and green architecture, Ms. Rupal Daswani wholeheartedly embraces this movement. She recognizes the importance of designing for wellbeing and preventing indoor air pollution, which directly impacts the health and comfort of users. Green interiors are not only forward-thinking but also contribute to a better environment for future generations. Mika Decors & Interiors aims to incorporate sustainable practices into their designs, making them environmentally friendly and socially responsible.
Understanding client psychology and requirements is paramount in the field of architecture and interior design. Ms. Rupal Daswani firmly believes in the motto "Their vision is our goal." She understands the significance of truly listening to clients, grasping their thoughts and desires, and combining them with her skills and knowledge. By doing so, she can create spaces that resonate with clients on a deep level, ensuring their satisfaction and happiness. Rather than imposing her own opinions, she collaborates with clients, guiding them through the design process while keeping their individuality intact.
Through her journey as an entrepreneur and professional in the field of architecture and design, Ms. Rupal Daswani has gathered valuable learnings. She emphasizes the importance of cherishing what you have and staying focused, even during the highs and lows of life. Saying goodbye to clients after completing their dream projects can be difficult, but she has learned to let go and be happy for their newfound joy. Her profession has taught her the art of resilience and the necessity of embracing change.
To budding architects and designers, Ms. Rupal Daswani imparts a powerful message: do not fear the market. She encourages them to give their best to society, as it will undoubtedly reward their efforts. Believing in oneself, working hard, and persevering in the pursuit of dreams are key ingredients to success.
The accomplishments of Mika Decors & Interiors have not gone unnoticed. In June 2019, they were published in the renowned interior design magazine, "The Neptune Glitz." Additionally, in July 2020, Ms. Rupal Daswani received certification for her contribution to the revival of green and sustainable construction in India.
Mika Decors & Interiors, under the visionary leadership of Ms. Rupal Daswani, continues to make its mark in the world of interior design. Their commitment to providing luxury within budget, their unique fusion store concept, and their ability to create personalized and captivating spaces have earned them a reputation as a go-to firm in Chhattisgarh.
As Mika Decors & Interiors looks towards the future, their goal is to spread awareness about the significance of hiring an interior designer when envisioning a dream home. They aim to expand their reach and share their creativity with people from all corners of the country. By emphasizing the value of a well-designed and planned living space, they hope to inspire individuals to prioritize their living environments and understand the transformative power of interior design.
Through her journey, Ms. Rupal Daswani and her team have overcome various challenges and obstacles. Starting a business without prior experience and entering the market at a young age required determination and resilience. However, she discovered that age and background do not limit one's potential for success. It is the combination of skills, talent, and creativity that truly matters. The recent pandemic-induced lockdown further tested their adaptability and determination, but they emerged stronger, realizing the importance of well-designed homes in times of crisis.
Mika Decors & Interiors has become a testament to the power of passion, dedication, and the ability to connect with clients on a deep level. Their success lies in their ability to understand client psychology, recognize their visions, and bring them to life through impeccable design.
Mika Decors & Interiors, led by the talented Ms. Rupal Daswani, has carved a niche for itself in the world of interior design. Their commitment to providing luxury within budget, their fusion store concept, and their ability to create personalized and captivating spaces have propelled them to success. Through their exceptional work and dedication, they have made a positive impact on society, helping individuals turn their dream homes into a reality. As they continue to expand their horizons, their vision of making interior design accessible to all remains at the forefront. Mika Decors & Interiors is not just a company; it is a symbol of creativity, elegance, and the power of turning spaces into beautiful, functional, and personalized works of art.