In the dynamic world of architecture and interior design, where innovation meets aesthetics, there are trailblazers who redefine the boundaries of creativity. Sameer Sancheti and Ar. Sweta Lunkad Sancheti, the co-founders of Different Squares Ventures Pvt Ltd., are emblematic of such visionaries. Their journey from inception to becoming a renowned name in the realm of commercial interior fit outs is an inspiring tale of passion, dedication, and innovation.
The Visionaries Behind Different Squares Ventures Pvt Ltd.
Name of the Directors/Owners: Sameer Sancheti & Ar. Sweta Lunkad Sancheti
Name and Address of the Organization: Different Squares Ventures Pvt Ltd., 2106, Haware Infotech Park, near Four Point hotel & Inorbit mall, Sec-30A Vashi-400705, Navi Mumbai, Maharashtra.
Website: www.differntsquares.in
The Genesis:
The story of Different Squares Ventures Pvt Ltd. began on May 22, 2010, when Sameer Sancheti and Ar. Sweta Lunkad Sancheti decided to embark on an entrepreneurial journey that would revolutionize the commercial interior fit out industry. With their unique blend of expertise and a shared vision, they set out to create a niche in the world of architecture and interior design.
Background and Inspiration: Sameer Sancheti brought his expertise in Management and Finance to the table, while Ar. Sweta Lunkad Sancheti, driven by a passion for architecture and design, added the creative flair. The motivation behind their entrepreneurial venture was to add a techno-commercial dimension to the realm of interior designing. Recognizing that specialization alone was insufficient in the ever-evolving industry, they were determined to offer holistic solutions with a unique blend of skills.
The Courage to Begin: Their journey began with a leap of faith, armed with limited financial resources and a handful of clients. As high dreamers, they decided to take the plunge, brimming with courage and determination. This was the commencement of their relentless pursuit of excellence in interior fit outs.
Defining Different Squares Ventures Pvt Ltd.:
a. Inception Year/Date: May 22, 2010
b. Present Status of the Business: Private Limited Company (PVT.LTD)
c. How it Impacts Society:
Interior design has a profound impact on society, influencing the way people live, work, and interact. Different Squares Ventures Pvt Ltd.'s contributions to society are multifold:
Enhancing Quality of Life: Their well-designed interiors enhance the quality of life by creating comfortable, functional, and aesthetically pleasing spaces, promoting productivity, relaxation, and social interaction.
Influencing Behavior and Emotions: Understanding how design affects mood and behavior, they create spaces that foster positive emotions and encourage desired behavior.
Promoting Sustainability: Their commitment to sustainability involves using eco-friendly materials, reducing waste, and incorporating energy-efficient technologies, contributing to a greener future.
Shaping Culture and Identity: Through their designs, they reflect the values and identity of organizations and communities, preserving heritage and traditions.
Boosting the Economy: As an industry, interior design generates revenue and employment opportunities across various fields, including architecture, construction, and manufacturing.
d. Specialization in Architecture & Design: Different Squares Ventures Pvt Ltd. specializes in commercial interior fit outs services, offering comprehensive design-built solutions on a PAN India level. Their expertise lies in providing unparalleled design and built services, proven to meet strict timelines and budget constraints.
e. Problem-Solving: They offer comprehensive services under one roof, sharing the substantial responsibility of clients by providing plug-and-play services.
f. Unique Selling Proposition (USP): Their USP is their ability to offer a one-stop solution for all the fit-out needs of an organization, leveraging various subject matter expertise. Different Squares Ventures Pvt Ltd.'s strength lies in its in-house capability to design and deliver complete interior fit-out projects with innovation and a commitment to timelines, ensuring customer delight.
g. Future Prospects: With a growing national presence, Different Squares Ventures Pvt Ltd. is poised to expand on a global scale, aiming to compete with international players.
The Entrepreneurial Drive:
What Encouraged the Journey: The decision to embark on the entrepreneurial journey was not taken lightly. Sameer and Sweta aspired to have the freedom to create and design spaces that truly reflected their vision and values. They wanted to work directly with clients, building personal relationships and crafting designs tailored to specific needs.
Professional Inspiration: David Rockwell, an American architect and designer known for his innovative and inspiring commercial interiors, serves as a professional inspiration. His ability to transform everyday spaces into memorable experiences through narrative-driven designs resonates deeply with Sameer and Sweta.
Overcoming Challenges:
The journey of entrepreneurship was not without its fair share of challenges. These challenges have been instrumental in their growth:
Client Trust: Initially, clients were hesitant to entrust their projects to a relatively young firm. Building trust took time and consistent delivery of quality work.
Coordinating with Stakeholders: Collaborating with contractors and clients often posed challenges, especially when innovation was on the agenda. Convincing stakeholders to embrace experimentation was not always easy.
Material Procurement: Ensuring access to good-quality materials and skilled labor was a persistent struggle. They have adapted by building their own team of skilled laborers and establishing relationships with trusted vendors.
Communication Gaps: Workshops played a pivotal role in overcoming communication gaps and aligning contractors with their vision.
Cherished Projects:
One project that holds a special place in their hearts is the Tech Mahindra project in Mumbai. The challenge was to design and build a modern, functional, and visually stunning workspace for a leading technology company. Incorporating cutting-edge technology, sustainable materials, and a strong focus on employee productivity, the project was a testament to their design and construction capabilities.
Embracing Sustainability:
Different Squares Ventures Pvt Ltd. firmly believes in the importance of sustainable and green architecture. They recognize that the construction industry has a significant impact on the environment and are committed to taking steps to reduce their carbon footprint. Sustainable architecture is not just a trend but a fundamental aspect of responsible design and construction, and they strive to incorporate eco-friendly practices in their projects.
Lessons from Entrepreneurship/Profession:
Their journey has imparted valuable lessons:
Learning from Failure: Failure is an integral part of entrepreneurship. Every setback is an opportunity to learn, adapt, and grow.
Customer Focus: Success hinges on delivering value to customers. Understanding their needs and providing tailored solutions is paramount.
Staying Updated: The world evolves continuously, so staying updated with the latest trends and technologies is crucial.
Time Management: Efficient time management is a skill that every entrepreneur must master.
Collaboration: Building strong relationships with clients, partners, and employees fosters better communication and collaboration.
Message to Budding Architects & Designers:
"Believe in yourself and work hard, as there is no shortcut to success. Dreams do come true."
Awards and Recognitions:
LOKMAT NAVI MUMBAI GAURAV
Business Network International (Navi Mumbai chapter) – Highest business givers to start-ups
Countless testimonials from clients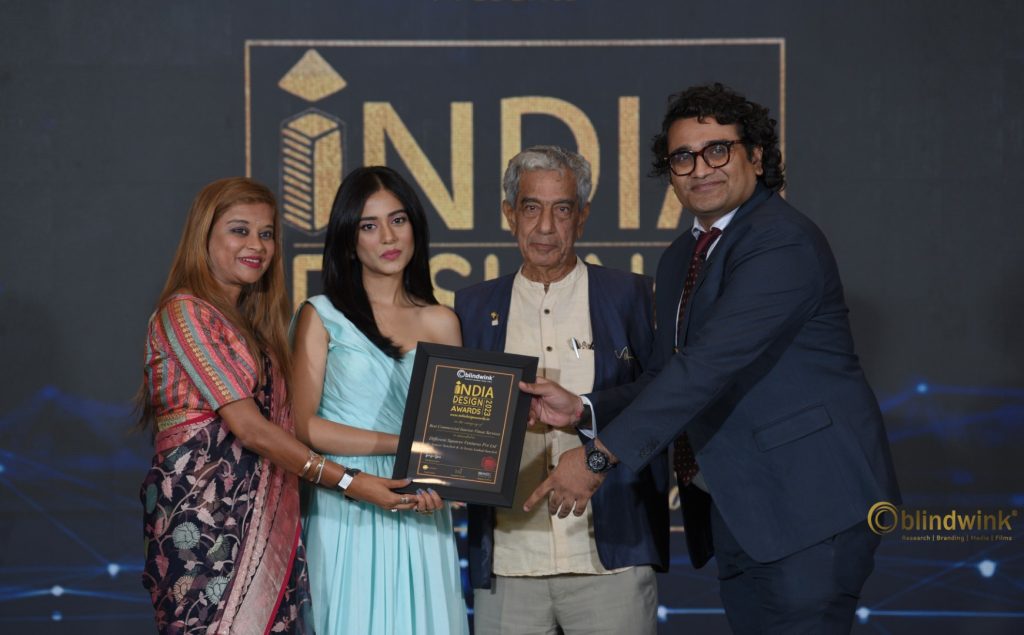 The journey of Sameer Sancheti and Ar. Sweta Lunkad Sancheti, from humble beginnings to establishing Different Squares Ventures Pvt Ltd. as a prominent name in the commercial interior fit out industry, is a testament to their unwavering commitment to innovation, sustainability, and client satisfaction. Their story is a beacon of inspiration for budding architects and entrepreneurs, reminding us all that with passion, dedication, and a vision, dreams can indeed become reality. As they continue to expand their horizons, the best is undoubtedly yet to come.