When passion meets determination, incredible stories of success unfold. Kapil Laxmikant Thakkar, a visionary architect and entrepreneur, is a testament to this truth. His journey from a young boy with a flair for creativity to an accomplished architect with a thriving business is nothing short of inspiring.
Early Education and Aspirations
Kapil's educational journey began at St. Philomena Convent High School in Nashik, where he laid the foundation for his future endeavors. His higher studies led him to Fravashi Academy Junior College, and he pursued his Bachelor of Architecture degree at Vidyavardhan's IDEA: Institute of Design Environment and Architecture in Nashik. Kapil's academic pursuits didn't stop there; he continued to nurture his passion by obtaining a Master of Science in Construction Architecture from Anglia Ruskin University in London, United Kingdom.
The Spark of Creativity
Kapil's journey into architecture was ignited by his early fascination with various forms of art, from singing and dancing to drawing. He longed for a career that would seamlessly blend creativity and problem-solving, and architecture was the perfect canvas for his aspirations.
The Pillars of Support
Behind every successful individual is a strong support system, and Kapil is no exception. His parents, especially his father, played a pivotal role in nurturing his creative interests. Despite hailing from a business-oriented family, Kapil's father wholeheartedly supported his dreams and encouraged him to pursue his passion. His uncles, Mr. Bhavesh and Sachin Thakkar, provided valuable guidance throughout his journey, shaping his path towards architectural excellence.
Early Career and Entrepreneurship
Kapil embarked on his professional journey by working with multiple builders in Nashik during the initial stages of his career. During his Masters in London, he also ventured into freelance architectural design. After gaining valuable experience, Kapil decided to take the entrepreneurial plunge. He founded his own firm, Kapil Thakkar and Associates, upon returning from London. Over time, his firm has become a prominent name in the architectural industry.
Outstanding Achievements
Kapil Thakkar and Associates have made significant strides in the world of architecture and design. Their outstanding work has been recognized with prestigious awards. One of their restaurant designs, executed during Kapil's early days, received the Best Award in the hospitality category at the WIDE AWARDS 2021. Additionally, one of their recent office building designs secured the second prize in the office building category at the same awards ceremony.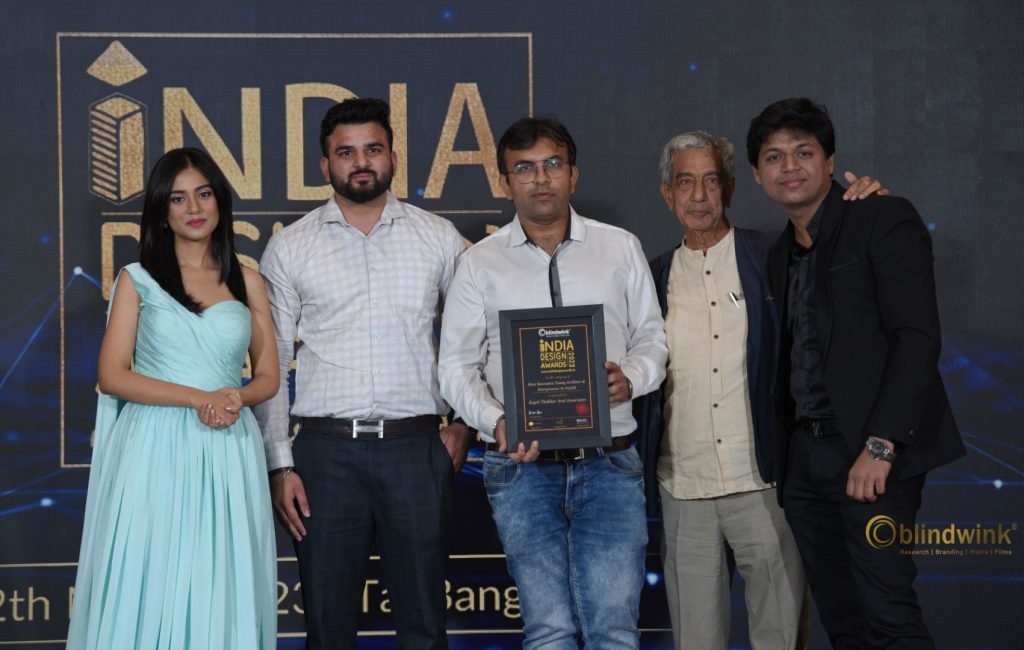 A Vision for the Future
With a creative mindset deeply ingrained and a family background in business, Kapil envisions a future where he can marry his passion for design with entrepreneurship. He aspires to enter the real estate sector, combining architectural brilliance with business acumen to contribute to Nashik's evolving skyline.
Nashik's Bright Future
Kapil Thakkar sees Nashik as a city on the rise, following in the footsteps of Mumbai and Pune. Investors and builders from both within and outside Nashik are recognizing the city's potential in the construction industry. Their investments in commercial, residential, and recreational spaces are poised to benefit the city's residents and contribute to its overall development.
A Lesson in Design
Kapil Thakkar's message to budding architects and designers is simple yet profound: "Design is fun; enjoy every project as you did in your college days." It's a reminder that the heart of creativity lies in the joy of the process, and that passion and dedication are the keys to unlocking a world of design possibilities.
In the remarkable journey of Kapil Laxmikant Thakkar, we find inspiration, determination, and the unwavering belief that dreams, when pursued with dedication, can turn into magnificent realities.