Charanya Gurusathya – Artistic Director, Natyashala Academy of Fine Arts
Established in 2009, Natyashala Academy of Fine Arts based out of Pune, have been doing a commendable job in imparting knowledge in Bharatnatayam with a holistic aim of propagating the art of this dance form among disciples and groom them into world class performers along transform them into better human beings and become the torchbearers for the future generations. Apart from training, the academy provides performing opportunities and encourages research in classical dance, music, theatre and fine arts. Natyashala teaches vital aspects of Indian Mythology through Bharatanatyam, promotes curiosity and enthusiasm among newbies. The academy discovers and encourages new talents and develops confident personalities through the Indian art forms.
Smt. Charanya Gurusathya, the Artistic Director of this Academy has been a prodigy in Bharatnatyam and had been training since her childhood. She possesses a dual master's degree in HR management and Fine Arts (Bharatnatyam). She has to her credit, many paper publications in International Journals (Central European Journal of Sport Sciences and Medicine of Poland, UK Journal of Orthopedics) and Indian dance forums like Narthaki, Classical Claps, Loud Applause, SAMVAAD, and Narthanam. Her experience in performing and contribution to the field of dance is indeed exceptional. She is also pursuing PhD in the field of dance. With 25 years of experience to her name, and having performed in more than 500 dance festivals, she has been rendering lectures and conducting workshops in USA, France, and Germany.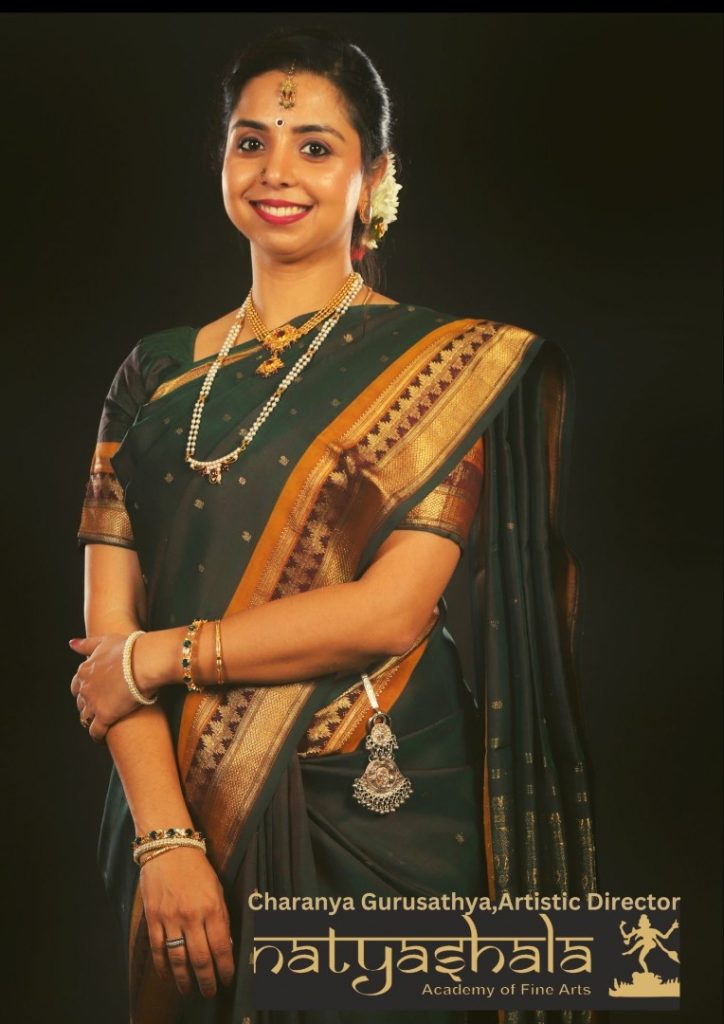 Smt. Charanya is passionate about her work and proudly states that,
"Among many dance productions, the recent ones  featured in popular dance portal Indian Raga has received wide acclaim from the global audiences with over 50K views and likes."
She is currently presenting and curating 'Digital Talk Series' since June 2020 on topic "COVID19 and way forward in Performing Arts." Her interaction with dancers from around the world (Australia, Bahamas, Italy, France, Argentina etc) is reaching more than 250K views on social media platforms. As an active member of 'International Dance Council' in partner with UNESCO, she has curated many online lectures, presented papers across Universities addressing students and connoisseurs of art. She has been curating online events, hosting prestigious government authorities to name a few – ICCR Director, SPICMACAY Coordinator, and Eastern Cultural Zone Director.
Natyashala always believes in making a difference to the lives of needy. In association with NakshatraMeen Foundation, Natyashala has been conducting dance classes at various organizations like Sevalaya – Chennai, Rachna Girls Hostel- Panshet, Thiravu Trust – Tamil Nadu, Sutradhar – Pune; thereby trying to make a little mark into the lives of underprivileged kids, teaching them core values of life through dance. Natyashala also offers internship programs to potential students by providing opportunity to work with children from remote areas.
Smt. Charanya believes that by practicing and performing dance, one becomes confident in their self-expressions, by which a holistic development happens in a child's life. Current generation kids are undergoing different kinds of stress, academic pressure, peer pressure and monotonous routines. Dancing releases happy hormones and allows one to stay healthy and happy.
It has been her parents and teachers who had inspired her to be professionally successful. Their commitment, dedication and discipline has always been the binding force behind her feat. She feels that her fun way of teaching dance has been unique and is a great way to develop strength, flexibility and poise. To all budding artists she wants to convey that,
"Dance is an artistic way of expressing one's feelings and emotions. It carves one into a complete disciplined individual. Stay grounded, humble and follow the basic Ps – Practice, Perseverance, and Perform."
Her work has been widely recognized for which she has been conferred with awards and accolades. She is a Guinness World Record holder for the year 2021. She has been the recipient of InSc Institute of Scholars Academic Excellence Award 2022, Saraswati Dadasaheb Phalke Women Achievers Award 2021, Nritya Shiromani by Griffin College London in 2021, ICON Awards 2021 for dance federation of India, Savyasachi Educator Award for 2020. She has been a delegate speaker at the 23rd General Assembly of International Dance Council held at UNESCO HQs in Paris in December 2019. We wish her all the very best.