Dr. Mohd. Asif Gandhi, the Assistant Professor (Mechanical Engineering) with Anjuman-I-Islam's Kalsekar Technical Campus, New Panvel in its School of Engineering and Technology. He started working in the industry at the age of 24 years. Currently, he is 48 and started Sports, Fitness, and Health-related activities. At 41, he concurrently managed his profession, research work related to his Ph.D., and Sports, Health, and Fitness related activities since he had objections from family for participating in sports, fitness, and health-related events during his school and college days.
His Interesting Journey To Health & Fitness
A well-respected engineer, he holds several degrees, including a Ph.D., an M.E, a B.E., and several Diplomas. A role model to his friends, socialites, academicians, and researchers, he has seen many appreciating his style of managing several things with ease. He believes that they have been positively impacted by him and this makes him very happy to be a change-maker in their lives.
His journey to health & fitness started as a plan to lose weight. However, back at the age of 41, the process made him conscious of his health and fitness; and accordingly, he resorted to sports for better fitness, recreation, and play as he realized that Sports, Health, Immunity, and Fitness Affairs go hand in hand along with work and family. That was the point when he realized and learned how to balance them all routinely with ease.
He is unique as a person. He can balance work, sports, health, and fitness very well without any strain on his professional, personal and social life. Although he is in academia educating to-be-Engineers, he finds time for research publication in his Production and Industrial Engineering domain. Apart from this, he has a flair for studying newer and newer things which are very evident from the 30 certification courses (including those in the field of Sports, Health, Fitness,s, and Coaching). Because of his all-rounder approach in life, he has learned to enjoy life and work.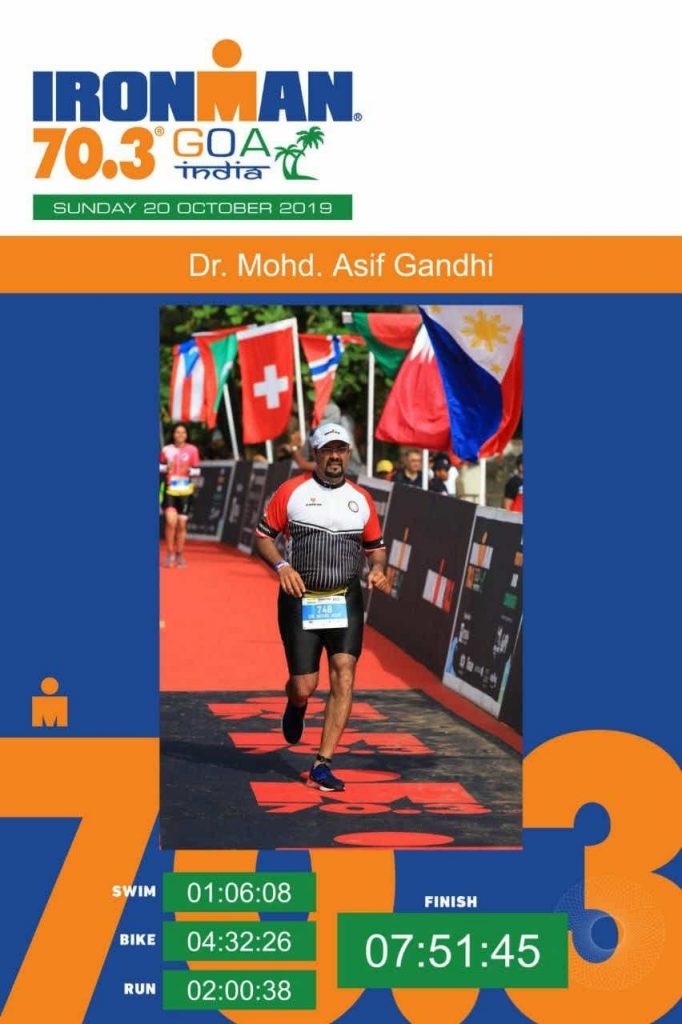 He started exploring the direction of fitness for around 3 years until later while being in the company of many who inspired him, he finally did it one day. Many have inspired him to date. He considers Milind Soman to be one of his notable inspirations for the benchmark he has set in terms of health and fitness standards which is well demonstrated by his hard-earned IRONMAN and ULTRAMAN titles.
"A typical day should have ingredients of work as well as play. Play or recreation should be a part of life"
The Hunchbacks & Comebacks
Initially, the family members used to object to him devoting time to sports activities for fitness purposes. But over the years they have started appreciating him for the visible change in his fitness level which is very evident from the nature of endurance events that he participated in.
His passion for participation in sports events for acquiring a higher fitness level has been noticed by his students and colleagues as well. Because of this, he is more associated with sporting adventures than with academics which he is also equally good at.
He found it difficult to make his students follow him participating in such individual sports as it is physically more demanding to participate in such sports events. But seeing his sports pics posted on social media over 9 years, he could see many of his students and faculty colleagues gradually walking his sports, health, and fitness path. Many of his ex-students too reconnect after many years and share their experiences of their newly found sports passion.
For his contributions in Sports, Health & Fitness, Dr. Gandhi has won several recognitions. Some of the certificates include the titles of the Ironman VR Kona World Championship 2020, Ironman 70.3, Goa, India, 2019, Triathlons: Half Ironman, Olympic, Aquathlons (3rd prize at Hyderabad Triathlon), Duathlons (3), Long distance pool swims: 10 km as a part of Delhi International Swimming Championship (secured 8th position, n)Open sea swims at Navy day celebration event and Goa Swimathon, and many more.
If you're inspired with this story, do share it with your friends and family & be their fountain of positivity! Don't forget to share your views and experiences with us in the comment section; we care for all of you!