Priyanka Kumari – Founder, Priyanka's Spiritual Café
Priyanka Kumari, who hails from a small village in Bihar, shifted to Delhi after her schooling and since then have made the capital city as her professional base. Delhi embraced her in open arms and provided her ample opportunities and experiences to become the person she is today. At a young age of 26, in the year 2018, she took the entrepreneurial plunge through the solo venture of 'Priyanka's Spiritual Café'. In spite of being a doctor od Alternative Medicine, she has been a psychology enthusiast and specializes in Psychic Tarot Reading, Numerology, Modern Meditation, Mindfulness, Hypnotherapy, Law of attraction, Manifestation, and other energy related works.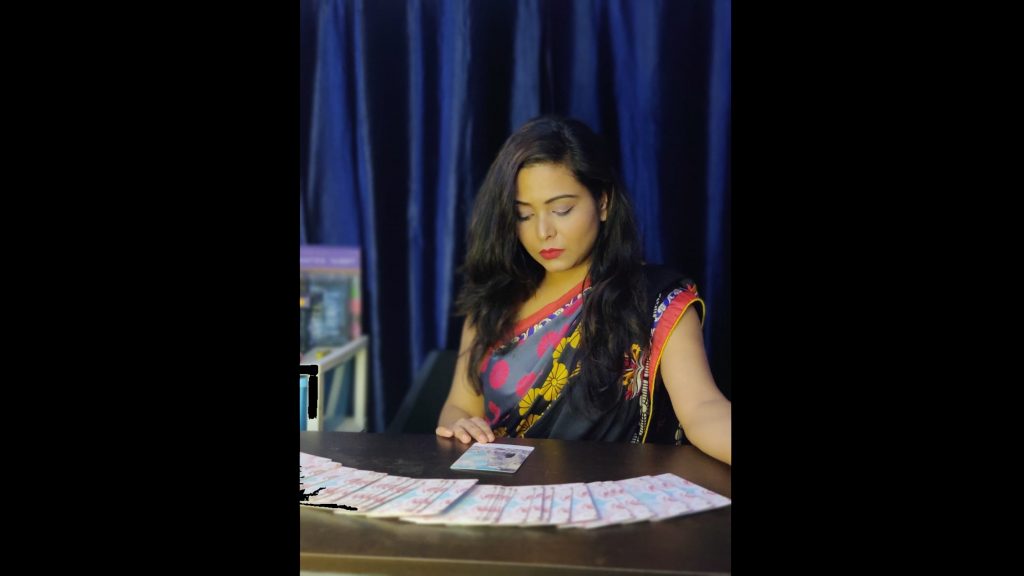 "I love learning about human behavior and mystic sciences, so currently I am researching more deeply on Tarot cards and their connection with our past. This helps me to understand and serve my clients better."
Apart from being a spiritual healer she is also a published author. Her book titled 'Manifesting Your Dreams: 21 days to shift your money vibration' is a sincere effort to help anyone who is willing to work on their money reality. The book is based on her personal experiences and learning and divided into 21 days to help improve money vibrations.
One of the best part if that she loves bringing different healing modalities together to provide maximum benefits to people and help them create a new reality for themselves. She has been helping people from 10 different countries with her online sessions and consultations. Since last 10 years through her innovative Café, she has been instrumental in helping people reinvent life, reinvent happiness, and reinvent spirituality.
She blends her solutions with empathy. She mentions that,
"We love to listen, heal, learn and grow. We understand you're the new age lifestyle & situations. We offer support in the form of counseling, healing, astrology & learning. We aim to provide simple solutions to improve your life and we love to bring ancient wisdom with a modern approach. So, we all can evolve and manifest the best of our lives."
Through this she helps people people identify their blocks, work on their traumas and difficult situations to get the best of their life. Be it career, relationship, family, child, and goal setting, through her various techniques and modalities she helps everyone to take a step towards a better future.
One thing which Priyanka boasts about her practice is bringing ancient wisdom with a modern approach, so that current youth can accept it easily. And blending astrology, healing, and psychology together to offer the best possible solution to her clients. On asking about the future prospect of her venture, she enthusiastically spells out,
"We are focused on creating new establishments around holistic living and self-development and creating a platform to empower people to manifest and create their dream life. Our goal is to touch one million lives by 2025."
Vishen Lakhiani, the founder of Mindvalley has been her professional inspiration. She has been following him for the past 8 years. The way he started his life, career, left his Microsoft job, and finally built Mindvalley from scratch was simply phenomenal. His journey has been the biggest motivation in Priyanka's entrepreneurial expedition.
As a kid, Priyanka was very sensitive, shy, and introvert individual. She was a loner and would feel pain very easily and that would make her think about others around, and gradually she noticed that people can't actually be themself, nor are allowed to express themselves. Everyone is living like a robot following the same mould of life. But she wanted to make a difference and be someone, and being one's own boss gave her that liberty and identity. However, no entrepreneurial path is smooth and Priyanka had he share of struggles. People around her would always judge her and wouldn't accept her talent, instead they would always place her gender in everything. In her corporate life she had to face it a lot and when she started astrology, people around her never took her seriously and often asked for free help. But as and when she started tasting success, people's belief on her abilities and talent changed.
To all young individuals who wants to make it big in this line of work, she has few tips –
"Knowledge and Will are two key parameters. Knowledge, because it's the foundation of work and will power because this work is very taxing. You have to deal with a lot of negativity with every minute of work. It's like you dive deep into problems and find out one ray of hope and help your client build upon that. It can affect one's personal life and energy also."
Being reconginsed and awarded at several forums, itself speaks volume for Priyanka's success. Till now, she has been conferred with Global Choice Award – Best Psychic Tarot reader/numerologist 2021, Indian Achievers Award – Excellence in Meditation/Mindfulness Coaching, India Emerging Leader – Alternative Medicine & Holistic Coach, and Global 50 Glory Awards – Outstanding Achievement in Psychic Tarot Reading & Numerology. We wish her all the success in the coming years.
If you're inspired with this story, do share it with your friends and family & be their fountain of positivity! Don't forget to share your views and experiences with us in the comment section; we care for all of you!