Kaliappan K – Founder & MD, Sprint6 Specialized Services Pvt Ltd
Established in 2020, Sprint6 started its journey with a capital investment of 25 lakh, which is now a crore worth company. Its founder, Kaliappan K, is an experienced technician who decided to jump into entrepreneurship at the age of 29 after gaining all relevant experiences in this field of work. He holds a Diploma in Electrical Engineering and an experienced professional having 12+ years in MEP, Civil and Interior project management, particularly in Corporate & Home Retrofits. He has sound knowledge in Restroom remodelling and Technical Operation & maintenance services, besides being a certified professional from L&T Construction Skills & Training Institute. Before opening his own venture, Kaliappan has served companies such as Larsen & Toubro, VGN, and Casa Grande PropCare. As a team player, he is always result oriented and possesses solid knowledge of retrofit project management.
Sprint6 is run by a team of young, energetic, and experienced professionals who have worked with leading developers and facility management firms in the past. With a dedicated design and execution team, the company provides complete turnkey solutions for all building requirements. Kaliappan's team works closely with clients to understand their needs, timelines and budget. Taking ownership of each projects, the team tries to deliver solution as quick as possible. They boast in providing affordable and easy to use services at home, and aims to expand business across the state of Tamil Nadu, in coming years.
Sprint6 portrays themselves as a one-stop-solution for all building needs. Backed by skilled labours, and trained technicians and engineers, they ensure highest level of safety. They ensures process driven solutions which can be quickly started and executed efficiently. More than anything they offer affordable services as compared to any other players in the market. With a target of 2.5 Crore turnover in next few years, Kaliappan is moving forward aggressively with more and more client acquisitions. He candidly shares that,
"My inspiration to start a business stemmed from a burning desire to work for myself, and I wanted to help others as well. A career long passion for engineering services. I started Sprint6 to provide the best customer service with innovative, intelligent, and high-quality bespoke solutions at competitive prices and timely delivery. Our mission is to empower 500+ service professionals by providing affordable, easy-to-use services."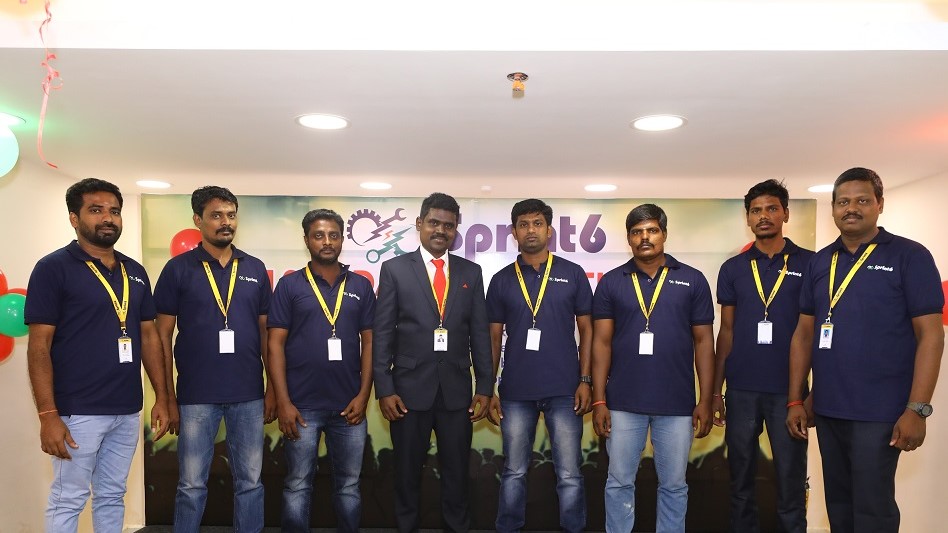 He draws professional inspiration from MN Arun, the founder of Casagrand, which happens to be his ex-employer. He has learned a lot from him during his Casagrand days. However, like any entrepreneur, Kaliappan too had to face some initial hurdles when he started off. Funding was a major issue which he faced, but eventually over the period of time he could overcome it. As and when he proceeded with various projects, he used his past learnings into action. As a passionate engineer, he always wanted to do something in this particular field. Also he wanted to provide employment to others and help them earn a living. So, behind opening up his venture he did have a noble cause which is currently being served.
He has been awarded with "IBNMSME Best Entrepreneur" & received "India500 Startup award". Before signing off, to all the budding entrepreneur in this field he advises to gain sound knowledge and relevant experience before taking the entrepreneurial plunge. Also a focus on prompt customer servicing will also take places.