April 2008, the time when Mrs Vidya Muralidharan, changes gears from being a teacher to a principal. Twelve years have gone by, and Army Public School Golconda(APSG) along with their principal have carved a niche for themselves in the Hyderabad circuit of schools. Mrs Vidya Muralidharan has always been an avid learner. Curious to find out what the world has to offer and how she can incorporate those ideas closer to home. She has laser-like focus and vision and is persistent in attaining the goals she has set for herself and those around her. Not just that, Mrs Vidya Muralidharan, is an excellent leader. Making sure her team are/is on the same page, pushing the boundaries and challenging the limits, she is in the waters with them, helping them figure out solutions to the visible and sometimes, invisible problems. She is a natural when it comes to planning and organisation. How to take a vision, an idea and turn in into actionable goals that will serve the overall concept is a skill that she has mastered over the years. Over the years she has created an environment and culture at Army Public School Golconda, once you experience, you never want it to stop.
Over the years, several alumni come back to the school to share their achievements and express their gratitude in APSG, creating a foundation for them to achieve in the outside world. Mrs Muralidharan's constant interest in understanding the world around here and asking questions like why and how have helped her create a path for students to springboard their way to success.
Mrs Muralidharan started as a teacher. She has 25 years of experience and hence a keen understanding of what more students need than just the usual book-ish information. Her role models are her two ever-lasting pillars, her parents. Wise and unwavering in their ideals, they have set her foundation for the morals she imbibes in the school culture. Her mother, like herself, was also a principal for many years. Thus the eye for creating a wholesome educational experience is, to a certain extent hereditary.
In 2008 when Mrs Muralidharan became the principal, the school was sheltered in the corner of Hyderabad. With too few students, teachers and space and big dreams, a change was in order. Under her guidance, a newer, better infrastructure was in the making. The Army Public School Golconda you see today stands strong upon a hill with a direct view of the Golconda Fort. Lush with greenery and ample space for children to play and dream big, this is where all the magic begins.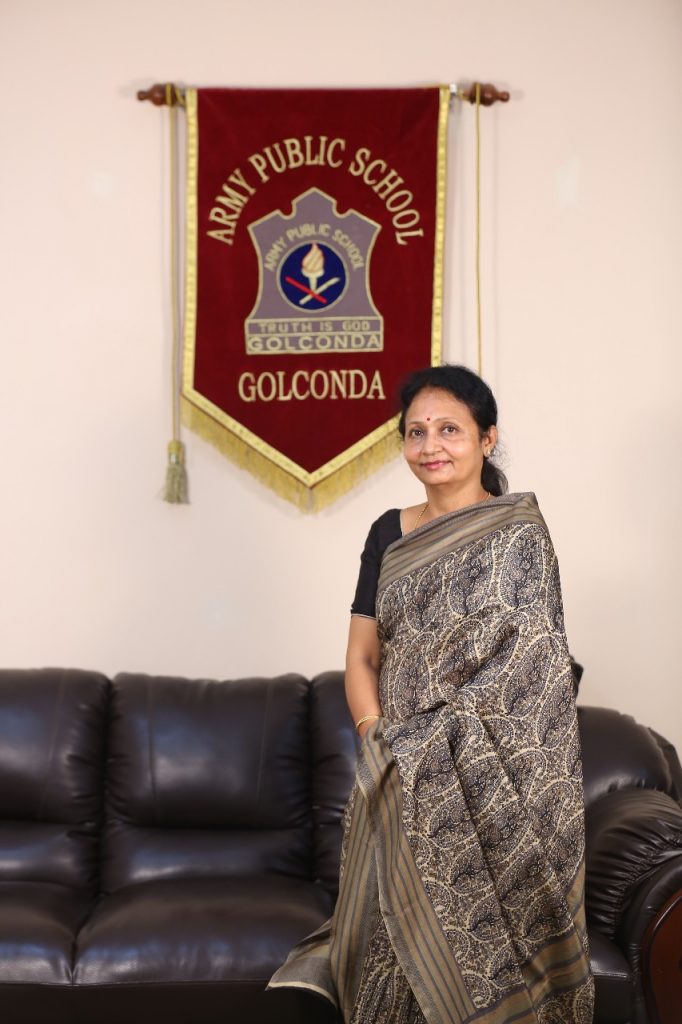 At Army Public School Golconda, everyone shares the vision of the school; everyone imbibes the culture, the morals and ideals. At the centre is perhaps the most essential pillar of the school ideals- excellence. APSG places its faith in the improvement, betterment and learning from mistakes if they can be called that. That, coupled with perseverance, hard work, and strategy is the magic formula that has reaped so much success. But perhaps more important than this is the feeling of home that all teachers, students and support staff members feel. There is a sense of devotion and loyalty to the school. It is no miracle that alumni come back year after year to share their achievements and express their gratitude for the lessons that the school has taught them. The principal believes that if opportunities don't knock, one can always learn to build the door. Creating opportunities for oneself reap more success than those that fall into our laps, and that is a skill that is valued and taught to students at APSG.
There are several laurels that the school has achieved under the guidance of the principal over the last decade. The most remarkable feature of the school is the community and the shared vision for all. APSG gives "wings to imagination"- the school motto and vision. Leading those who walk through those halls to a place for impossible success. Anything is possible if you believe and set the path for the required work. There is no better place than APSG to harvest the mentality of creative solutions.
Having pushed the notion for excellence in the school, Mrs Vidya Muralidharan leads by example. She is the recipient of the Chief of Army Staff commendation- a prestigious award bestowed upon those who have showcased remarkable performance. She was also awarded the Acharya Devo Bhava award by BrainFeed and Education Leadership Award by Business School Affaire to name a few. She also collaborated with the British Council with the intention of bringing 21st-century skills and global citizenship closer to home. Her efforts won her the International School Award. Over the last two years, she has held the position of the Vice-Chairperson in the Sahodaya Complex of Hyderabad Principals. Her years of travelling across the country and abroad have given her much insight. These travels have made her a lifelong learner. Her three-dimensional approach to the possibilities of education and what more it can be, have made her a dynamic leader.
Mrs Muralidharan's intention with every person who becomes part of the school in whatever capacity is first and foremost makes them believe that they can soar the skies. She has created an environment that serves as a springboard to reach those heights one dreams of. Those who come are forever vocational to the school and its teachings. Creating leaders out of everyone is a task that Mrs Vidya Muralidharan has done with ease and continues to do so. It is her innate belief that school must teach more about life than the words the textbooks have to say that makes APSG the home to dynamic teaching.
If you're inspired with this story, do share it with your friends and family & be their fountain of positivity! Don't forget to share your views and experiences with us in the comment section; we care for all of you!