Mihir Sankar Phukan, the Guitar Wizard of his fans who is also the owner of Cantabile Music Academy, is an artist who created exceptional opportunities for Assam kids to have a go at western music.
Starting his journey at 23, his entrepreneurship has taken many years to flourish. He was born and brought up in Guwahati city and did both his schooling and college there. He started playing guitar as a hobby when he was in 8th standard, and according to him, this artistic side has been with him from childhood.
Music has always been an integral part of his family as his father has been singing since his younger days and played musical instruments very well like Harmonium and Tabla. His elder sister is also a trained Indian classical singer and his visits to cultural events with his father to listen to various musical instruments drew him towards the tune of the guitar.
After a while when he became more serious about pursuing a career as a musician, he got invitations to play at various platforms across the nation. Therefore, he slowly started getting recognition in his state, both nationally and internationally. Soon after, his acquaintance with ROCKSCHOOL LONDON (RSL) ignited his dream to establish an authorized exam center in Assam.
A Rescuer For His Students
During the time of his acquaintance with ROCKSCHOOL LONDON (RSL), they were looking for partners in India. As he was the most prominent young person in the field of western music from Assam and Northeast India at that time, they offered him the opportunity. Hence, he took the opportunity to establish a music school and founded the Cantabile Music Academy in 2012 and made it the first RSL authorized exam center in Assam. That is how his entrepreneurship started.
The Institute serves as a solution to several problems. For the institute, students no longer have to visit outside of the state for an International certified music course. Artists also do not have to travel outside of the city or state searching for a proper place for recording music. From his struggles as an artist, he saw the lack of proper infrastructure in his state. Thus, he knew what kind of support young music aspirants needed for establishing a career in music. So, establishing the music academy gave the much-needed infrastructure and a proper learning environment for the students.
The RSL certified music courses for students are really helpful. Apart from providing music training, his team provides facilities for recording music and space for jamming for renowned local musicians from the state. Recording studios and jam pads are quite costly in cities and many artists might find it difficult to visit such places. So they even provide jamming space and recording studio at a very competitive price for such clients.
"A lot of hard work and patience is needed if you want to fulfill your dreams"
Struggles & Stuff
For him, getting financial support was the biggest challenge. Promoting his brand to the audience was another challenge. The environment for western classical music is still not so strong in Assam like it is in other northeastern states, hence, struggles were coming back to back.
Although he won several awards as a Guitarist, he still didn't know that he wanted music as his career and so he joined an Engineering College to pursue Computer Science in Karnataka. During that time he couldn't find time to play his guitar which he loves so much. Then only, he started missing the stage and the audience and realized that he didn't want to take engineering as his profession.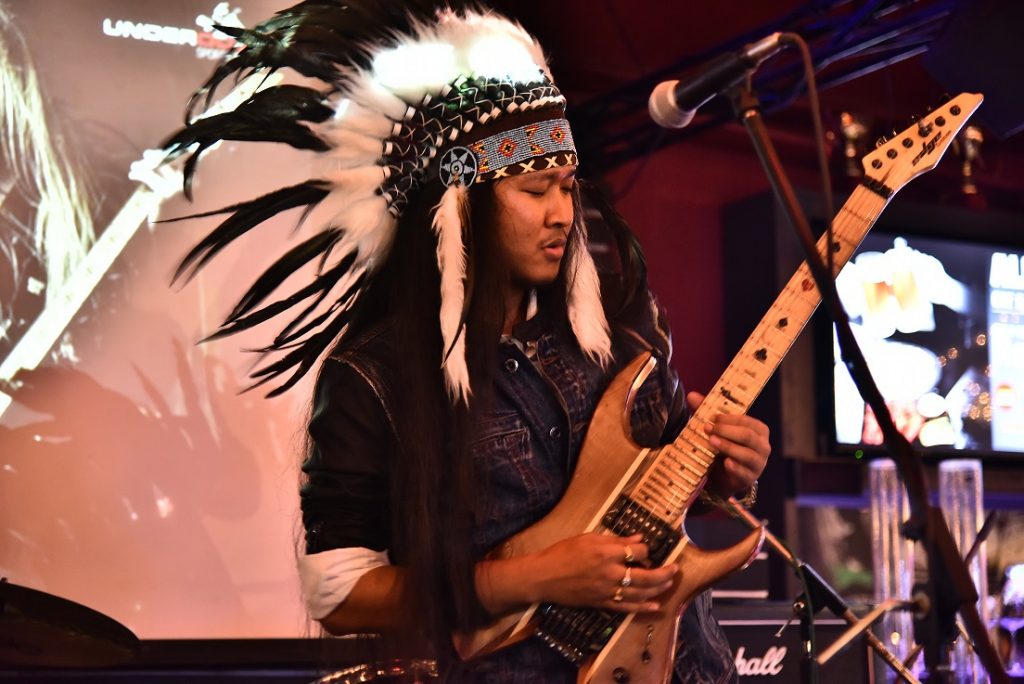 This man after all his struggle which is still going on some level has won several acknowledgments that he deserves. Some go by the name: Best Guitarist Award for 5 times in a row at state/ regional/ national level competition – Pyrokinesis, Synchysis, Rock-O-Phonix, etc from the year 2003-2007. Best  Teacher Award from Rockschool London in the year 2016 for his contribution as a music teacher.
If you're inspired with this story, do share it with your friends and family & be their fountain of positivity! Don't forget to share your views and experiences with us in the comment section; we care for all of you!