Daphne Soares – Founder & CEO, Carousel Moms Business and Leadership Coaching
As a young adult Daphne Soares had an inborn talent of empowering people of all ages. She would spend most of her time listening, encouraging and counselling. In 2010, she first learned about coaching when she hit a roadblock in her own life and was struggling to move past it. The techniques she developed during this time were so successful that friends and family began asking for her help with their own challenges. As the years went by this motivated her to turn her new found passion into a full-time career. And that's how "Carousel Moms" shaped up.
She has been empowering women globally especially moms through 1:1 personalised and group coaching to have a healthy mind-set, overcome limiting beliefs and create healthy boundaries both at home and in the workplace. She also conducts online sessions. She coaches her clients in such a way that helps them utilise both their heads and their hearts, to find a right balance in their own carousels of life, create a thriving business without feeling overwhelmed, and build great rapport with their team and clients. Daphne takes pride in seeing the success of her clients.
This successful entrepreneur dons multiple hats. Besides being a Business, Leadership, NLP and Time Line therapy Coach, Daphne is an international speaker and mentor. She has gone from a career woman with a 9 – 5 job, to a homemaker, coordinator in the community, a Masters' Catechist, Counsellor, Hypnotherapist and Psychotherapist. She has been working as an internationally certified coaching professional who specialises in helping people cope with their mind-set, business and leadership issues.
It all started when Daphne and her husband moved to the UAE after their marriage. In an unknown foreign land, she had no one to rely on but her husband. In order to make sure her kids are well taken care of, she quit her senior executive position and fully committed herself to taking care of her family. Being unemployed posed a huge challenge to her. Instead of getting disheartened, Daphne treasured every moment that she had to spend with her kids. The turning point of her life came when she bumped into an online Psychology course. She took up the challenge and went ahead to complete the course. The results helped her better understand herself, her husband, and especially her children during their teenage years. Since then, she committed herself to acquire knowledge on how the human mind works and how it affects one's behaviour and actions—starting herself on a path of self-discovery and mind-blowing life realizations. After getting through that journey, Daphne finally knew that this is what she was most passionate about.
Daphne holds a series of certifications with Distinction from Dayton University Ohio, USA and UAE in Catechesis, Special Needs, Relational and Youth ministry, Pastoral Approach to Culture, Disabilities, Deaf Faith Formation, Autism, ADHD, Creative Methodologies and Practical Morality and. Human Development. She is a Post Diploma holder in Counselling & Psychotherapy India and Canada in Family, Trauma, Teens Counselling, Hypnotherapy, Psychotherapy, Couple and Family Enrichment and Women's Wellbeing. She is further Certified in Youth Leadership from Notre Dame Institute of Education and a Professional Coach from Australia and UAE in Advanced Skills, Business Skills I, II and III, Disruptive Leadership, Meta Dynamics, Emotional Intimacy, NLP and Time Line Therapy Coaching.
She has been ranked #7 among the Top Business Coaches to look out for in 2022 by The NYC Journal and is also among the Top 10 Female Coaches in 2021 declared by Yahoo Finance. She is the Guinness World Records International Bestseller Author, Amazon # 1 Bestseller Author and co-authored a number of books. She loves to continue her ongoing education and research in Coaching, Counselling, Psychotherapy, Meta Dynamics and Disruptive Leadership. She is an amazingly versatile woman whose commendable work is an epitome for other women to look up to as an inspiration with vast experience. She is a Woman of great Empowerment.
Her main inspiration has been her parents. Her greatest role model was her own mother who was a Lawyer of the High Court. Professionally she is inspired by great coaches like Tony Robbins, John Demartini, John C.Maxwell to name a few.
Daphne further shared that in starting her own business and pursuing her dreams, it was important that she firstly believed in herself and then got clarity on what she wanted in life followed by staying focused. She had to step out of her comfort zone and stop being a peoples' pleaser. She realized that her feelings and happiness did matter by putting herself first and then my family, friends and clients. It was not being selfish. It was only when she had attended to herself first, could she give her very best to all around her, be it at home or in the workplace.
In the beginning, when she stepped into business she had to do a lot of in depth research and study on the techniques that best suited each client. She said, "One cannot judge a book by it's cover and not all clients are the same. Each client is unique and special." She learnt that listening, being non judgemental and holding space was key to her success in this profession. This led her clients to trust her and want to work with her long term. She now works globally and conducts virtual coaching sessions on 1:1 basis and for groups.
She shares that her greatest joy is when her clients break through limiting beliefs, say YES to themselves and confidently step out in Business and leadership roles. They become the best leaders in their field, are successful entrepreneurs and are able to build lasting rapport among their teams and clients.
She advises all budding entrepreneurs to believe in themselves and in their clients. Hold space for your clients. Do not get disheartened when things go wrong and any one of your clients does not succeed. Each one's map is different and it takes the spade work of both combined to achieve success. Your client must take ownership to take action. You need to start small and grow. Be ready to learn from your mistakes and use them as stepping stones to rise. Be clear on your goals and never lose focus of your dreams. Be willing to ask for help and remain a life-long learner. Keep your big WHY always before you. Make sure to take out time regularly for yourself exclusively and your family. Go on an annual vacation. Daily go for a walk, stretch your legs and do some exercises. Enjoy the fresh air. This will help you avoid early aging. If you are exhausted and burnt out you will lose the ability to think and act wise, serve and be at your best. More than money, your health is your wealth.
Daphne recommends that if you have read this far, you need to do the following:
TAKE A PAUSE AND ASK YOURSELF: (note your answers down and visit in every quarter to see how far you have progressed. What changes you need to make to achieve your dreams)
"What legacy do I want to leave?"
"Where do I want to go 5, 10, 20 years from now?"
"WHY am I doing this?"
She says, "A mompreneur is a courageous multi-tasking woman who meets the demands of her business and family with great love, focus, and dedication."
And through her venture, she further empowers a mother to maintain the right balance between taking care of her family while running something of her own. Daphne shares her success story to help moms overcome limiting beliefs and not see marriage and family as roadblocks but stepping stones to building the new generation and living life to its fullest. She further says,
"it is important that a mom takes some time out of her daily routine for ME time, it is not being selfish. Rather it becomes life giving for those around you and helps you stay tuned, healthy and energised. You are then able to give your best to your family and all those you meet."
It is a known fact that children spend most of their time with their mother, and she can be the most significant source of inspiration for them while giving her best to the family and living her dreams. According to her,
"It is necessary as a mom to be happy, plan well and sync to the right rhythm of the music in their own carousels of life & not to forget, you must get the family involved, particularly the kids and, if possible, your partner too. Include the children in decision-making. They often have great ideas and love to be heard. Make all feel that they matter."
Infact Daphne walked the talk and got her children involved in small ways. Her business name, logo and colours, ebooks are the creation of her daughter. At the same time, her son helps in paperwork and other areas of the business.
She believes in giving back to the community and country. She holds many senior positions globally besides being an Entrepreneur:
She is a High Official and International Brand Ambassador for The Global University International in association with HRH Queen Nadia Harihir, HRH Queen Dr.Elizabeth Lucas II and Princess Amb. Dr.Catherine Comandante Sanghil
President Women's Wing (Women's Empowerment) Aam Insan
Chairperson Waves of Kindness International
Expert Advisor Waves of Kindness International
Panelist for BMAN – Boys Mentoring Advocacy Network, Nigeria
Panelist LARAS MOTHER, Lagos Nigeria
International Speaker for Shangla Welfare Association Pakistan
International Speaker for the International Strong Womens' Summit 2021
International Speaker for the International Mega Symposium 2.0
International Speaker for the International Mega Symposium 3.0
International Speaker NEXT Global Conferences LA, Australia and UK
Trainer at Train the Trainers and Learning Club International Vietnam
International Coach for Coachathon in the UK, Europe and Africa sector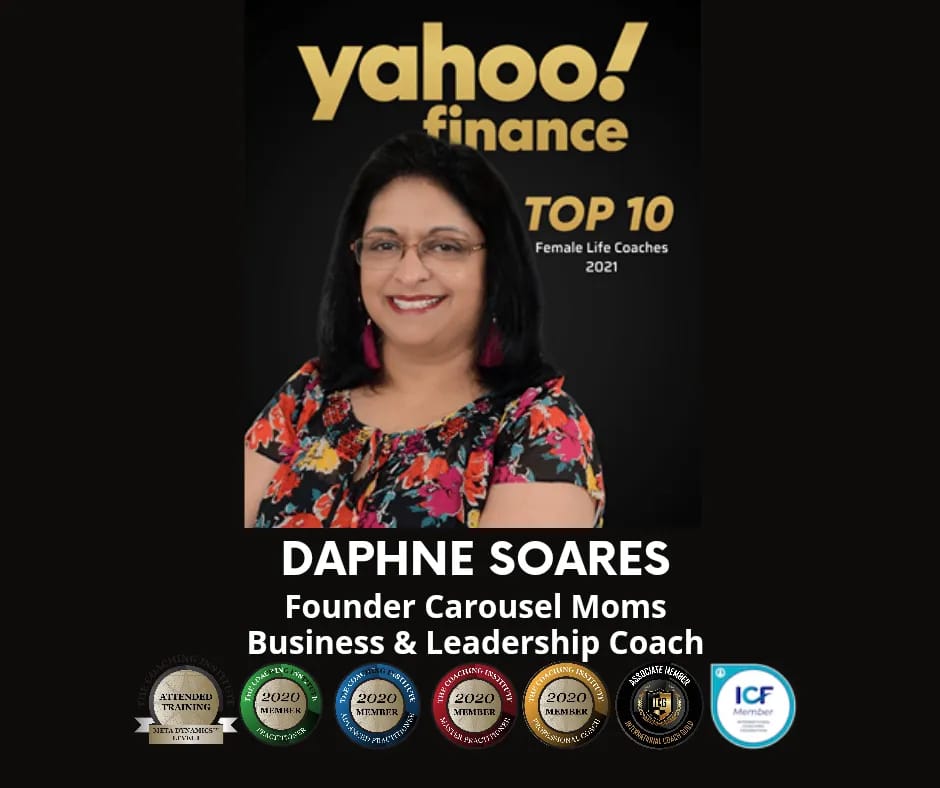 Besides being nominated for the Business and Leadership Award, Philippines; Asian International Excellence Award 2021, Malaysia; Awarded Intellects International – Woman of Vigor Award, Global Business Icon – Professional Entrepreneur of the Year; Best International Honour and Education Award, Daphne has been featured internationally in numerous newspapers, TV channels and magazines and been felicitated by a plethora of awards as being listed below…
Honorary Doctorate from Humanities – HR Amb  Dr. Jamila  Safi,  President General and HR Amb. Dr. Tony Fouad, Head of Chairman, Egypt
The Most Inspirational Leader Award by The Global University International in association with HRH Queen Nadia Harihiri, HRH Queen Dr. Elizabeth Lucas II and Princess Amb. Dr. Catherine Comandante Sanghil,
International Hero Award by The Global University International in association with HRH Queen Nadia Harihiri, HRH  Queen  Dr. Elizabeth  Lucas II  and  Princess  Amb. Dr.Catherine Comandante Sanghil,
Friendship Cub from Humanities – HR Amb Dr. Jamila Safi, President General and HR Amb. Dr. Tony Fouad, Head of Chairman, Egypt and Palestine.
Asia's Outstanding Woman Leadership and Mentoring Award Malaysia
Shaurya Samman Award by Sutra Excellence Awards India
Dr. Sarvepalli Radkhakrishnan – LifeTime Achievement Award India
Ramada ' Best Sales and Marketing Award' Pakistan
15 Years Volunteers Sodality 'Service Without Limits Award' from UAE.
Ladies of Honour Excellence Business Woman of the Year Award, Nigeria
Asia's Most Influential Woman Business and Leadership Coach – India Achiever Award 2021
Dr.A.P.J.Abdul Kalam Award of Honor – Dynamic Speaker of the Year 2021
Light Bearer Edu-Leader – Global Education Awards
International Peace Award
Star of Sisters without Borders – Role Model Global University Global Unity
International Peace Award
International Celebrity Author Award
Guinness World Records Marathoner
Daphne can be reached on:
www.instagram.com/carouselmoms
www.linkedin.com/in/daphne-soares-530685201
If you're inspired with this story, do share it with your friends and family & be their fountain of positivity! Don't forget to share your views and experiences with us in the comment section; we care for all of you!