Dr. Madhur Jain, Interventional Cardiologist. He heals the hearts of the people. He is currently working in Delhi NCR. Received awards for his contribution in Health and Medical Sciences; he won "Most Competent, Proficient and Coveted Doctor & Interventional Cardiologist in Delhi NCR."
As one of the most respected professions globally, medicine provides a strong sense of morality attached to it and professionals with immense satisfaction. Thus, during the current pandemic, doctors have earned the title: 'frontline warriors.' This is due to their dedication, perseverance, and commitment to helping COVID-19 patients recover, often at personal cost.
Encouragement behind the profession
Dr. Jain became a doctor because he wanted to make a difference in people's lives. Being a cardiologist is helping him accomplish that goal. However, it was a desire to serve others that ultimately drove his decision to become a doctor.
The determination to become a doctor was propelled primarily by values infused in him by his family. His father, a doctor himself, would take him to the civil hospital where he worked—watching constant caring of poor, ill patients impressed upon him the virtues of hard work and commitment over personal gain and its privilege to help others.
From the beginning, he knew he was going to be a doctor. It's shaped by knowledge and hard to put into words. His mother always encouraged him to shape up his dream of becoming a doctor. And after joining medical college, his mentors taught him the art and skills of medicine, but more importantly, how to be a doctor.
Struggles and problems
There are many hurdles behind being a successful doctor. This career requires intense schooling, continuous training, constant support from family, and a chaotic schedule, not to mention a heavy dose of tenacity and patience.
Therefore, with time he learned to make decisions based upon training and experiences to integrate caring for those in need by involving patients and families in that decision making.
Being a cardiologist with listening ears and empathy with compassion, he can have an immediate positive impact on patients with heart problems. Thus, he tries to provide hope and optimism to the patient and family apart from ongoing treatment."
Reason to choose the profession
Dr. Jain became a Cardiologist because he was fascinated with working of the heart since he was in school and had amazing and inspirational mentors after joining medical college. Besides, after Marriage, his wife, a doctor herself, and In-Laws supported him to pursue a career in cardiology.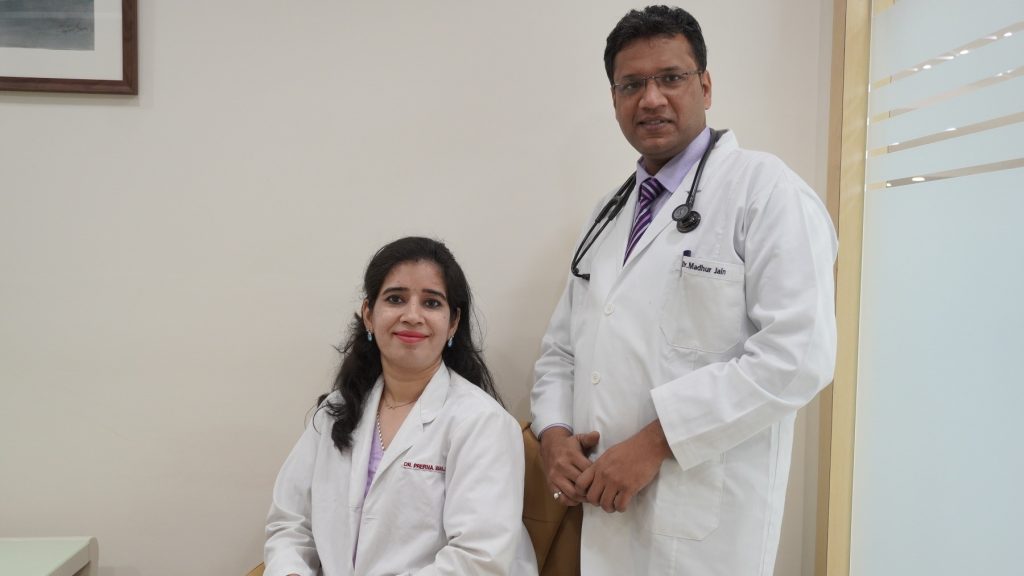 "I'm passionate about helping people with heart diseases to live their best lives. I'm always aware that I am directly impacting someone's life."
He finds each patient a welcome challenge. Every day, it's a prize to have the chance to care for patients in their most helpless times. Despite the stress, long hours away from home and family, he could never imagine a different career. Twenty years later, it continues to be a great joy and a privilege to him to help the tiniest of patients.
Therefore, for budding doctors, Dr. Jain recommends that:
" The men and women who dedicate themselves to the pursuits of wellness, research, and compassion for others, medicine is a calling."
Each time he works closely with young doctors, he is again reminded of my initial motivation to become a doctor. Their joy, passion, and desire to serve others inspire him.
"I always tell them- Never stop being curious! Never stop showing compassion!"
Apart from the miracles of every part of this journey, the excitement of the medical professorship, son, and doctor, what satisfies him most is spending quality time with your family to play with your children. This relieves all the stress but also charges you up for the next hectic day.
Lastly, a 20-year career in medicine has taught him that understanding what makes one excited about getting up and going to work each morning is perhaps the most important consideration when choosing a career.
Given how much time we spend at work, it only makes sense to pursue a career that provides happiness and fulfillment. Thus, he feels fortunate that coming home happy and fulfilled gives the satisfaction that comes from knowing that he has made a difference in the lives of others.
If you're inspired with this story, do share it with your friends and family & be their fountain of positivity! Don't forget to share your views and experiences with us in the comment section; we care for all of you!