Today, we're here with Papiya Bhadra's story. Papiya Bhadra hails from Jalpaiguri, which is a small town in the state of West Bengal. After completing class 12th from Sunitibala Sadar Girls High School, Papiya Bhadra headed for her graduation in AC College of Commerce in 2020 and later got trained from VMP-AIIM & South East Asia Training Organization Singapore, popularly known as SEATRO.
These were the two Investigation Training Courses in Delhi wherein Papiya Bhadra got trained under the guidance of Mr. VM Pandit, an ex CBI Official ,Former Director WAD( World Association of Detectives).
Papiya Bhadra is the first female member of APDI( ASSOCIATION OF PROFESIONAL DETECTIVES AND INVESTIGATORS) in North east India.
She has also received the Best YOUNG INVESTIGATION Entrepreneur award from APDI IN 2021, IN THE AGE OF 26. THIS IS A VERY PRESTIGIOUS AWARD IN THE FIELD OF INVESTIGATION. AND THIS AWARD HANDED OVER TO PAPIYA BHADRA BY FORMER ED ( Enforcement Directorate) Director Mr.Karnal Singh IPS.
Papiya Bhadra then started her venture on 4th November 2020. She built a team of skilled and driven individuals. She started working with various corporate houses to investigate security and security allied business, due diligence, and enforcement duties according to the individual/company's personalized requirements. Her business aims to provide the client with brand power protection.
Not to mention, they've completed several projects to date, while some of them are ongoing. As the Founder & Director of Greenberet Enforcement and Secret Service Pvt Ltd, Papiya Bhadra kick-started the business by reaching out to different corporate houses and offering their investigations & enforcement services so that the corporates could get brand power protection.
Papiya Bhadra built an empire from the ground up. She started from scratch and has taken the company to a corporate level. Papiya Bhadra has several professionals working under her.
The company has field agents, freelancers with experience in the field of investigation, and cyber security experts, among others.
The company's employees ensure that they offer accuracy, great service, and customer satisfaction. If you're wondering how Papiya Bhadra's business stands apart, its USP is that she has built a company with a field of work that involves risk, responsibilities, accountability, legal matters, and other aspects that you may not come across in other businesses.
Papiya Bhadra tries to run Greenberet Enforcement and Secret Service Pvt Ltd under a fixed budget, and she also tries to maintain the TAT. Papiya Bhadra is a smart woman who chose this line of business as it is an essential part of corporations. Investigation and due diligence also play a crucial role in high-profile cases.
Growth in the corporate sector automatically means that there will be a higher demand for investigation companies that help with market surveys, brand power protection, fraud detection, security auditing, and investigation, among other important services.
While she is herself an inspiration, Papiya Bhadra gets her share of inspiration, knowledge, support, and experience from:
Lt. VM Pandit(Former CBI officer, Ex-Director WAD, CEO- VMP-AIIM)
MR. L.N.Rao (IPS, EX- DCP, DELHI POLICE, Working national president of APDI)
MR. KunwarVikram Singh (Chairman of central association of private security industry /CAPSI)
MR. Mahesh Sharma (Secretary-General of APDI)
MR. Sanjay Soi (Major General ( Retd.), CEO at Security Sector skill Development council and Hony CEO at CAPSI)
MR. Abhisekh Bhattacharya(Founder Director of Unite Deals).
Papiya Bhadra is now 27, and she started her company at 25. Currently, she lives in Siliguri (Gateway of North East), known as the "Chicken Neck" of India, as it has 3 International Borders & 7 North-East state hubs.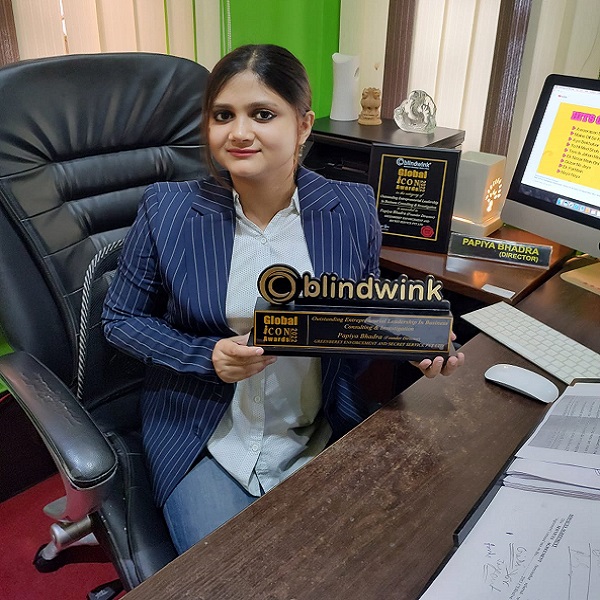 Papiya Bhadra's bravery and dedication to her company get portrayed as she continues to run her company while living in a risky city.
As challenging as it may get, Papiya Bhadra is all set to get past the troubles and keep growing her company. Indeed, she is an inspiration for India's youth.